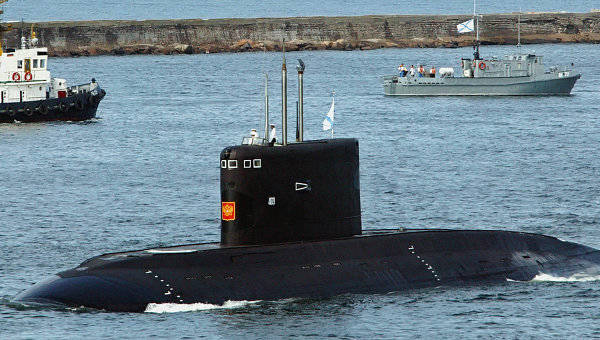 The third of six Varshavyanka class submarines ordered by the Vietnamese Navy will be launched later this month, the first of six submarines of the same class intended for the Black Sea
fleet
Russia will be launched in November this year. This is reported by the English version of "RIA
News
"With reference to the information of the shipyard" Admiralty Shipyards ".
Diesel-electric submarines of the Varshavyanka class (636M project), which received the nickname "Black Hole in the Ocean" in the US Navy due to their low noise, are designed to fight surface ships and submarines.
The first submarine, designed for the Vietnamese Navy, completed 100-day sea trials last month, training the Vietnamese crew was launched in April and is expected to be handed over to the customer in November, Admiralty Shipyards report.
Vietnam ordered six submarines in the 2009 year, which should balance China's increasing maritime influence in the region. The amount of this contract, which also provides for the training of Vietnamese crews in Russia, is reportedly 2 billion.
Improved submarines class "Varshavyanka" have enhanced stealth and combat capabilities. The construction of the first Varshavyanka-class submarine for the Black Sea Fleet, dubbed Novorossiysk, was launched in the 2010 year and is ahead of schedule, the manufacturer reports.
Submarines are equipped with 533-mm torpedo tubes and are armed with torpedoes, mines and 3М54 Caliber (SS-N-27 Sizzler) cruise missiles, the displacement is 3100 tons, can reach speeds up to 20 nodes, can sink to the depth of 300 meters, The crew consists of 52 people.