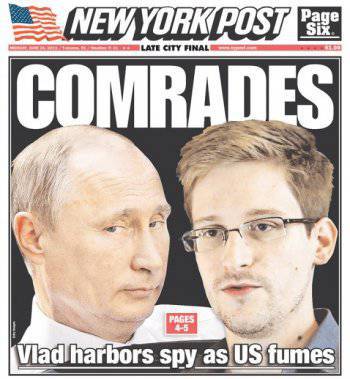 The United States "took a pause in relations with Russia," that is, they will not discuss current world problems with it, Obama said in his special Friday speech devoted to Russia. While Lavrov and Shoigu, having discussed these very problems with their American counterparts, left America.
History
with Snowden was supposedly the last straw that overwhelmed the state of patience. This is just a good mine in a bad situation, which turned out to be the States "after Snowden." They were supposed to take a break when Snowden got to the Sheremetyevo transit zone in Moscow. But then the Washington Regional Committee was hysterical, and it was not enough for this. Now it has come to the conclusion that you will not take Moscow with arrogance, and the remnants of reason have taken over. Last Friday, Obama voiced them: the United States finally heard Putin's Munich speech (2007), in which he declared that Russia was returning to the world stage as a great power, and wondered how they would be now.
In general, the attitude to Putin in the Western media has become clearly ambivalent: some continue to denounce him as a "dictator", others, along with criticism, are called "the Moscow grandmaster", who, like a schoolboy, drives Obama through the chessboard. This is progress, previously limited to insults. Indeed, Obama seriously loses to our Vladimir Vladimirovich in political lists, but he himself is only partially guilty of this.
Putin is a real president, plenipotentiary, that is, after consulting, he can quickly make decisions, especially if they are fairly obvious. Quite a different position of Obama in the American table of ranks. Who is Obama at all? A modest lawyer who, by the will of fate, has fallen into the presidential chair. Leave the chair - again become a modest lawyer, ex-president. The last real president in America was Kennedy, for which he was killed.
Obama is just a vip-manager, representing politics, let's say, the Washington Regional Committee. Until the gears of this regional committee turn around, Obama is forced to implement a "previously approved plan", for example, after Snowden returns. Therefore, Obama constantly loses Putin in speed of response to a changing situation, and will continue to lose.
The "Snowden" crisis also showed much more, perhaps it has every chance to go down in history as "sign". Let us dwell on the bare facts.
Germany canceled the agreement with the United States on the exchange of information, concluded in 1961 year, citing the need to protect "personal data". This is a very polite, but smack of the NSA of the USA, and an obvious Atlantic rift: Germany is hurt by being spied on like in China.
An anti-American jet was revived in Western European public opinion: local intellectuals, like Russia, began to protest against the double standards of the Yankees. Snowden's revelations to the ANB-CIA were voiced by the English Guardian, which is also, as they say, the mouthpiece of some European elites.
Unprecedented for the West is that Snowden was declared a spy, because it turns out that he is a spy for the Guardian newspaper. The forerunner of Snowden, the founder of the site WikiLeaks Julian Assange, in turn, called it "state extremism." In the interests of national security, foreign agents once declared their political opponents to Stalin. Dangerous precedent, but what a twist of fate!
In this situation, Snowden in Moscow becomes like an island of "free America", its symbol, a world rostrum, while the Washington Regional Committee got "hooked" on Putin: you will inevitably take a pause. Now Washington's mentor tone towards Moscow at any moment can cost him dearly.
The scandalous seizure of the Bolivian president's plane in search of Snowden also suggests that the CIA has no serious informants in Moscow, and the Kremlin is impenetrable to it. The CIA acted blindly and failed. Less noticed that the game of cat and mouse: catch Snowden - had a continuation.
Immediately after the landing of the Bolivian liner, one of the Cuban flights of Aeroflot unexpectedly changed the route: Moscow seems to have slipped it to the Americans for the Bolivian take, but, having just burned themselves, they decided not to take any more risks.
Putin's anti-gay anti-gay law, especially because it led to a "human rights campaign" against Moscow led by Obama ("No one is more offended than me by some laws against gays and lesbians adopted in Russia," the US president said ) really splits the western world. The best of his "brains" are beginning to look at Moscow with hope: "We need our own Putin" - say the western "dissenters", as it were, to peak the bog motto "Russia without Putin." Gay parades are not as harmless as they are represented: the parades are conducted by the winners, and the Europeans who have not lost their common sense understand this.
In general, homosexual paranoia in the West is an alarming sign that it has come to the point of complete decomposition, the primitive power of instincts, followed, as a rule, by some kind of "new order", perhaps the NSA CIA electronic matrix. Such a "fight against terrorism" is easy to extend to anything, especially snowden.
It seems that Putin is now applying Kutuzov tactics - he allows events to develop in a natural way, only slightly pushing them, in accordance with international law. The United States is acting entirely on the basis of its selfish interests, and this is beginning to cause concern even among American allies. Snowden in Moscow became Putin's trump card in the "human rights information war," the Washington Regional Committee finally realized this, and took a pause.