As many already know, I, as the author of "Made by Us," visited Seliger and asked Putin a question. I did not announce this trip, because its meaning was precisely in this very question, but whether I asked it or not was unknown. I myself have always been quite cool towards Seliger, and I took the prospect of a trip there without much enthusiasm. But there was no choice, it was the only way to find out the answer to the question that had been worrying me for a long time. This question was repeatedly asked to me by others: "Why the state is not at all engaged in promoting its own achievements. Why the federal media do not show the positive side of what is happening in Russia." I certainly guessed why. But I wanted not to guess, I wanted to know for sure.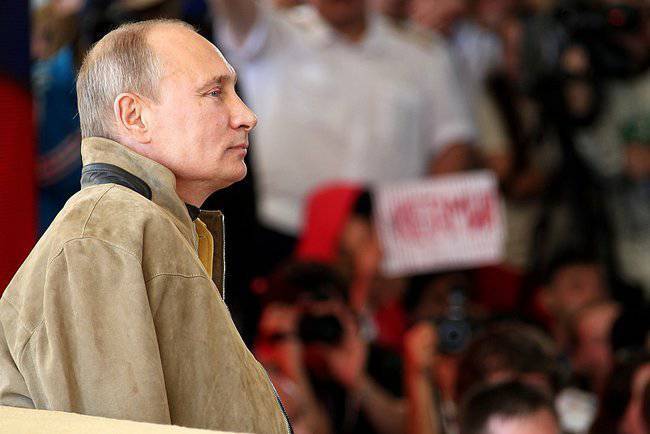 R. KOVRIGIN: Hello, Vladimir Vladimirovich!
My name is Roman Kovrigin, I am the developer of the Internet project "Made by Us". We are an online community that solves such an important, complex task: we are trying to rectify the information field created by our media. The fact is that it has such a significant bias towards negative, this is especially connected with Russia. Turn on the TV, open the newspaper, and you will find out that something there drowned, exploded, fell, something stolen, for example.
V. PUTIN: And what, is there a suggestion or a question?
R. KOVRIGIN: We are committed to publishing exactly those
news
which our mass media do not publish, that is, the opening of new industries, the construction of roads, bridges, and so on.
VLADIMIR PUTIN: You will have a non-rated publication, a non-rated publication. Do not earn a lot on this.
R. KOVRIGIN: Probably, but the project is quite popular.
My question is: isn't it time for the state to get involved? There are federal media. In theory, their task is to show an objective side, to talk about Russia objectively. Nobody says that it is necessary to hide problems, to hush up. No, this also needs to be told. But you need to show the other side of the medal.
V. PUTIN: First, of course, it's great that there are people like you who do this. But I want to mention this. There is a very important thing: if you do it exclusively for the money of the state and with the help of the state, then the credibility of such information will be negligible. That's the whole trick, you know? We must do this talentedly, interestingly, ignite people, involve people in this information and at the same time enjoy minimal support from the state, although this is, of course, a sacred thing. What you are doing is absolutely holy. But the more you receive money from the state, the more you will be glued to any label and the less confidence there will be in this information that you formulate. Let's think about it together.
I will say straight out: I am completely satisfied with the answer of Vladimir Vladimirovich, that is how I understood the logic of the authorities, which could, but do not wish, to influence their own media. That is, such an answer did not surprise me, but I wanted to hear it from the President personally. And I heard a clear and unequivocal answer.
Do I agree with this logic? I do not know. On the one hand, that's right, really, by getting money from an interested party, you are in fact becoming a lobbyist for the interests of this party, that is, you yourself become an interested party. The interested party a priori cannot be objective and have neutral judgments. And an outside observer understands this, referring critically to a lobbyist. This is all true. Meet on clothes.
On the other hand, I cannot accept the obvious consequence. It turns out that the majority of our citizens are not capable of analytical thinking, are not able to separate the wheat from the chaff, and are guided in their judgments not by the essence, not by the facts, they not only meet in clothes, but also escort in clothes, not in mind. If Channel One, for example, talked about new and existing industries, of course, at first this should cause distrust of the "mouthpiece of power." But the production is real, and they exist regardless of who told about them, the First Channel or Echo of Moscow. The viewer must understand this. The media is just a shell, the essence of the information is important. For example, it does not matter to me who finances Izvestia, it is important that their content, which they give, is not credible, simply because it is replete with false and unverifiable facts.
Thus, the President is right or not, first of all, depends on how much the thinking audience of the media in Russia is, how much she is capable of analytical thinking, going beyond stereotypes and independent thinking.
From Putin's answer, I understood one thing - the authorities are not going to influence the information policy of the federal media, at least this influence will not go beyond the simple requirement: "do not go beyond the bounds of decency."
Now that the financing of our project is swinging, many on the network who heard my question decided that it had some hidden meaning, saying that I hinted Vladimir Vladimirovich that it would be nice to give money to our project. I admit an error: probably the phrase "is it not time for the state to join the work" probably should not have been pronounced, it can be understood in two ways. But there was no hint of the help of SUN in the question, for one simple reason: the decision to finance the project was made long before this meeting, and it has long been a "open secret". I'll clarify: only the decision has been made and the bureaucratic procedure for filing the necessary documents is under way, there is no financing itself. Actually, the fact that "Made by Us" is a contender for support was announced a long time ago, and yesterday, despite Putin's response, this intention was confirmed. So asking for money from Putin simply did not make any sense. On the contrary, Putin's answer made me think about whether it would be worth taking this help, whether it would not hurt the project, or whether its authority would jeopardize it. I still have no final answer to this question.
Those who regard government funding as a freebie from the sky do not really understand all the problems that fall on their heads in the appendage to money. I don't know how the NCO's "Foreign Agents", which receive grants from abroad, can be much simpler, but in Russia our requirements are very strict. For example, strict financial statements, strict compliance with the estimates, the need to register a legal entity, which in itself adds a lot of problems compared to the commonplace "PI on simplified services", strict demand for payments to social funds solely from their own income, without the use of grant funds. To whom how, but for me, who does not have any experience in managing a full-fledged company, it's all very difficult.
On the other hand, such financing will allow the project to reach a new level. Remaining social, he will be able to offer the reader more of his own materials, reports from productions, exhibitions, press tours. This is a very expensive part, but also one of the most interesting parts of the project. It's good when the host pays for the trip, although in this case I'm going from Rostov to Moscow and back for my own. But in Russia there are thousands of enterprises about which I would like to tell, dozens of exhibitions are held a year, where you can often see the products of our enterprises. I would very much like reports from enterprises and exhibitions to be regular; a grant will allow this.
In addition, the grant will allow to conduct an advertising campaign, hire people who can speed up the development of the "Made in Us" platform, as long as I have both server administration and programming and much more related to the technical side of the project, I cope, but another programmer and the sysadmin would not prevent, but on the contrary, would help to do this work faster and better.
If someone thinks that the grant gives some tangible personal benefit, then he is mistaken, in fact that relatively small salary is due to me, as a manager, will spend on expenses not included in the estimate, various consumables, equipment, tax payments, etc. . Maybe I'm just inexperienced in budgeting, but I didn't think it was right to include such expenses, pointing out only the most costly items that the project itself wouldn't draw at this stage of development.
But I repeat, doubts about the expediency of financial support from the side, I was worried before, there was no euphoria from such a prospect, on the contrary, there was a painful understanding of the inevitability of side effects: what will outweigh, undoubted benefit or unavoidable harm? And Putin's response just added oil. And although the work on the preparation of the necessary documents is underway, doubts remain. Maybe you can help me to finally decide, especially since this project is not mine for a long time, but belongs to the whole community, of which I have the honor to be a part.