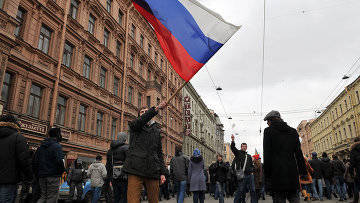 William Deresiewicz (William Deresiewicz) offers an extremely gloomy look at Russia and its
history
:
"The Russian people seem to be conducting a long-term experiment on themselves, trying to figure out whether it is possible to organize a society solely on the basis of brute force. The results of the experiment: stagnation, humiliation, alcoholism, despair, kleptocracy, corruption, environmental destruction, anarchy on the roads and streets, the mafia, compared to which Cosa Nostra looks like social workers. This is, of course, not limited to the matter, but it is precisely this that remains steadily the central plot. "
I suspect that it always remains a "central plot" - including - precisely because people outside Russia concentrate on such things, which they consider to be defining the country, and then make them a "central plot" no matter what going on. Russia, of course, still suffers from illiberal political culture, authoritarian power, corruption, and so on, but beyond that, most modern Western interpretations of Russia have a strange idea that this country is hopeless and seems doomed by history to never do not change. Although modern Russia is very different from Russia twenty years ago, many in the West continue to write and talk about it as if nothing serious has changed in it - or, even worse, as if it has lost some "achievements" of catastrophic 90's. Meanwhile, now she has become much more developed and richer than before, and even her demographic picture is not as terrible as it was a dozen years ago. If someone (like Dereshevich) thinks of Russia, two words come to mind first - "immensity" and "cruelty", he will probably look for things related to them, in any story about this country, ignoring everything else . If someone thinks that "the darkness seemed to linger forever" only in Russia, most likely, his perception of the history of Russia is greatly distorted.
I'm not saying that Russia has no problems, or that these problems need to be minimized, but constantly assuming the worst and never questioning this version, we produce an extremely superficial, one-sided and erroneous view of this country and its people.