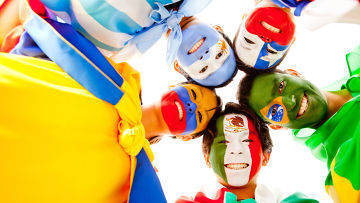 Latin America was not the focus of attention at the US-China Summit held last week in California. Despite the fact that PRC President Xi Jinping, US President Barack Obama and US Vice President Joe Biden, toured almost the same Latin American countries last month, it should be noted that this region is not among their priority topics. There is no particular tension associated with Latin America between the United States and China. There is also no evidence that the United States is particularly worried about China's dramatically increased presence or that the two countries view each other as enemies or rivals fighting for power, resources or allies in the region.
Xi Jinping explained this lack of conflict of interest when he said in Mexico that "the more Latin America develops, the better for China." In their articles published in the Miami Herald, Obama and Biden reiterated similar theses, namely that the US benefits greatly from thriving Latin America. This explains why the United States and China have a positive attitude towards the trade agreements of each country in Latin America.
Both in Washington and in the region as a whole, there is a consensus that Chinese trade, and more recently investments and loans, have played a key role in the accelerated economic growth of Latin America over the past decade. According to the World Bank, the International Monetary Fund and virtually all Wall Street analysts, Chinese imports contributed significantly to the region's economic growth. A significant or prolonged reduction in Chinese purchases would deal a serious blow, the consequences of which would have an immediate effect.
China's trade with Latin American countries has grown from 15 billions in 2000 to about 200 billions in the past year. It should be recognized that the position of Mexico and a number of other countries weakened after China strengthened in the markets for their products, in particular, in the USA and Latin America. But this is a consequence of the industrial expansion of China and world trade, and not its increased activity in Latin America. And Mexico as a result of the losses incurred has become more competitive.
Equally, China is well aware of how much the prosperity of Latin America depends on access to markets, investments and US loans. That is why 11 of Latin American countries 18 signed free trade agreements with the United States. (China has signed three such agreements with Chile, Peru and Costa Rica. All these countries are US partners). China's leaders know that any weakening of the US role in Latin America will lead to a decline in Chinese exports to the region, making it much less attractive for new Chinese investment.
It is not necessary to deny that the United States and China are competing for markets and opportunities to invest in Latin America, but they are so different ways that the competition between them is not much different from competition with Europe or Japan.
Let's face it. The economic importance of the United States in the region has declined, while the presence of China has strengthened long ago. Twelve years ago, about 55% Latin American imports came from the United States. Over the past year, this figure has decreased to one third.
The volume of trade operations of China with Brazil, Chile and Peru exceeded those of the United States. China ranks second in trade with Colombia and Argentina. But although, starting from 2000, the US presence in the Latin American market decreased by 40%, the absolute value of US exports to the region doubled, and investments grew much faster than exports to other countries of the world. The fact is obvious that the large purchases of commodities by China in Latin America contribute to the growth of its purchasing power, turning this continent into a more substantial consumer of American goods.
As a result, Washington will continue to contribute in every way to Chinese expansion in Latin America, and China, for its part, will welcome the significant influence of the United States on this continent.
The US economy not only did not suffer from the active trade activities of China in Latin America, but rather the opposite: it gained significantly as a result of Chinese investment and China's trade with the countries of this continent. Note that China focused mainly on economic issues, showing little interest in political and security issues.
At first glance, Xi Jinping's visit to Latin America was purely economic in nature, although some observers have suggested that visits to Mexico, Costa Rica and Trinidad and Tobago, the three US neighbors and their closest trading partners, in essence, represented an invasion of zone of American interests and should be perceived as a political challenge to Washington. Perhaps even as a sign of China's concern about the Obama government's decision to increase American influence in Asia. Maybe. But the three countries mentioned above are also important trade and economic partners of China. If China decides to finance a multi-million dollar project to build a new canal through Nicaragua, I think that US banks and companies will hurry to take part in it, because it promises a clear profit.
And finally, Latin America managed to establish mutually beneficial relations with China, the United States, and (with some exceptions) directly on the continent itself. And this situation will last for some time.
This is one of the reasons why during their meeting in California, Xi Jinping and Obama did not address the issues of the continent.