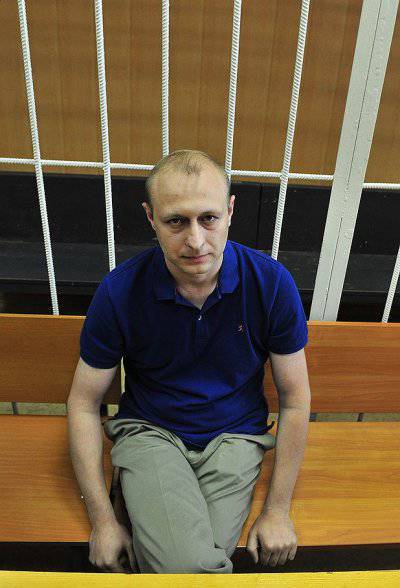 By the age of two years and eight months in a general regime colony, the Tverskoy Court of Moscow sentenced Dmitry Mityaev, the head of the Mira company, who was passing as a witness in the Oboronservis case. He was found guilty of attempted property property fraud. The defendant himself did not admit his guilt. His defense, noting the humanity of the judge who appointed instead of the five years requested by the prosecutor, a shorter term, intends to appeal the verdict.
The fact that Dmitry Mityaev will not be justified and will receive a real term, his defense realized in mid-June, when, at the request of the public prosecutor, the court instead of debates resumed the judicial investigation. In its course, according to lawyer Oleg Lyubushkin, the prosecutor once again read out "everything that he had against the defendant," asking in the end to impose a sentence of five years in prison.
As follows from the verdict, the former head of the sales department of Legal Center Expert, Nikolay Lyubutov, also passing as a witness in the Oboronservis case, and the general director of Mira company Dmitry Mityaev, who were authorized to sell the military property of Oboronservis, committed fraud in respect of the head of LLC "Institute of construction expertise" Mikhail Pashkin. For 3 million rubles. they promised him assistance in winning the auction for the purchase of the building of the Shchelkovo consumer services plant from the Ministry of Defense for 35 million rubles.
The criminal case was filed at the request of Mr. Pashkin, who suspected Nikolai Lyubutov and Dmitry Mityaev of fraud. During the investigation, Mr. Lyubutov fully admitted his guilt and concluded a pre-trial agreement with the investigation. On April 5, his case was dealt with in a special order, and he received 2,5 of the year in prison.
They did not enter into a pre-trial agreement with Dmitri Mityaev, because, as the prosecutor's office considered, after the testimony of Nikolai Lyubutov, he could not say anything new. As a result, the general director of the "World" did not have anything else but to insist on his innocence. In court, he said that the crime was committed by Mr. Lyubutov, and he himself did not know about his plans and was not even familiar with the victim. At the same time, the defendant himself and his defense insisted that there was a provocation of bribes and commercial bribery on the part of Nikolai Lyubutov. However, the court rejected both arguments, finding that Dmitry Mityaev "refused the money uncategorically and he had the freedom of choice."
Immediately after the announcement of the sentence, Dmitry Mityaev, who was under house arrest, was taken into custody. "Despite the fact that the judge showed humanism, sentencing less than what the prosecutor asked, we will appeal the verdict," lawyer Oleg Lyubushkin told Kommersant.