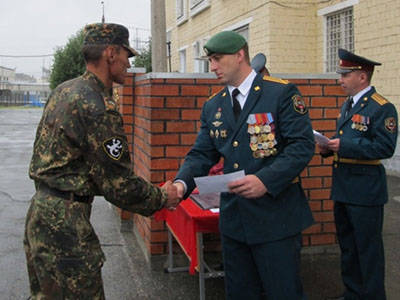 The special unit "Obereg" of the Ural regional command of the internal troops of the Ministry of Internal Affairs of Russia (Chelyabinsk) has been eleven years old from the date of formation.
The solemn event dedicated to the annual holiday of the military unit, in addition to the personnel, was attended by family members of the dead servicemen, veterans, representatives of public organizations, and also pupils of two sponsored orphanages.
Opening the meeting, the detachment commander, Colonel Sergei Zadorozhny, thanked the servicemen and veterans of the detachment for their courage, professionalism and dedication to military duty. He expressed confidence that all the tasks to fight terrorism will be completed in the name of security and prosperity of Russia.
"We have a difficult and truly dangerous job, but noble goals are the peaceful life of citizens, the peaceful sleep of our children," he said.
The special forces were congratulated by Yuri Pervushin, the first deputy head of the main directorate for interaction with law enforcement and military authorities of the administration of the Chelyabinsk region, and Mikhail Burenkov, the head of the administration of the Soviet district of Chelyabinsk. They wished the soldiers further success in their difficult service and thanked them for their participation in the military-patriotic work with recruits and young people from Chelyabinsk.