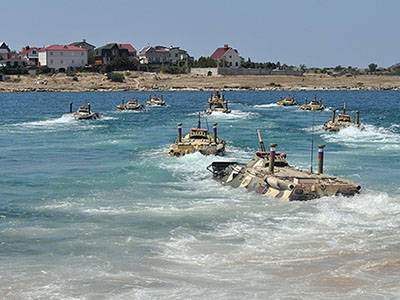 At the training ground of the Black Sea Marine Brigade
fleet
practical training of drivers who will drive armored personnel carriers afloat during a military sports holiday on the Day of the Russian Navy is underway in Cossack Bay.
At the first stage of training, young drivers worked on placing armored personnel carriers inside the ship's twins and unloading armored vehicles on a coastal simulator simulating the deck of the ship's deck.
Then the equipment was prepared for overcoming water obstacles with checking the tightness of armored personnel carriers, and only after that practical exercises began on entering armored personnel carriers into the water, deploying them in battle formation, movement as part of a unit, firing afloat, and the ability to keep the distance between the machines.
This year 10 armored personnel carriers with regular drivers are involved in the preparatory activities. All of them have received theoretical and practical training, as well as received the necessary driving practice.
On the eve of the marines held a training session on the exit of military equipment to the float with the involvement of a large landing ship "Novocherkassk", and today in the Sevastopol Bay was the first training, during which the equipment of the marines was landed with BDK "Nikolai Filchenkov."
Training of marines will be continued in the coming days, both privately and in conjunction with the Ukrainian Navy, whose equipment and personnel also take part in the demonstration of a landing party during a joint holiday.