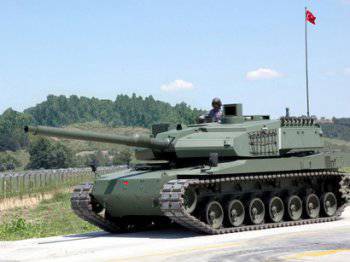 In Turkey, from the third of June to the tenth of July, tests of the first domestic
tank
Altay, Sabah reported on Monday.
As a result of successful testing, it was found that the tank fully meets the specified requirements and is ready for mass production.
The agreement on the creation of the Altay tank was signed in March 2007 between the Defense Industry Secretariat (SSM) of the Ministry of Defense of Turkey and the Turkish company Otokar.
After testing, it is expected to receive an order for serial production of the first batch in the amount of 250 units. The expected cost of one tank will be 5,5 million dollars, the cost of the development project is 500 million dollars.
In recent years, the Turkish defense industry has focused on the development and production of its own products. Turkey managed to achieve self-sufficiency in the defense industry in 54 percent.