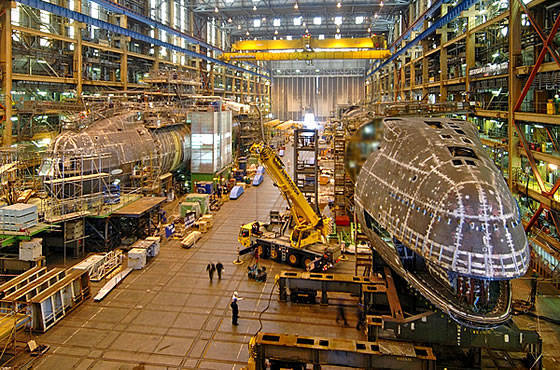 The ceremony of laying the keel of a multi-purpose nuclear submarine "Agamemnon" of class "Estuet" took place at the shipyard of "BAE Systems" in Barrow-in-Furness 18 in July.
The Agamemnon is the sixth estut class submarine.
The company BAA Systems, which is the main contractor of the program, is to build an 7 submarine of the Estyut class for the British Navy. They are designed to replace outdated Trafalgar class submarines. The lead submarine of the series was officially transferred to the British Navy in November 2010, the second Embush nuclear submarine - in March 2013. They are currently undergoing sea tests before reaching a state of readiness for combat use.
Currently, 4 Esteut-class submarines are in various stages of construction. The third submarine "Artfall" is in a high degree of readiness at the shipyard in Barrow-in-Furness. The elements of the robust hull of the fourth submarine (Odeyshes) are being combined. In December, 2012, the UK MoD announced the conclusion of a contract worth 1,2 billion pounds to complete the construction of the submarine Odeyshes, as well as the allocation of 1,5 billion pounds to build the three remaining submarines. This allowed the construction of the fifth Anson submarine and the purchase of components with long production times for the sixth and seventh submarines.
Supply of Artful nuclear submarines to the British
the fleet
scheduled for 2015, Odesaces for 2018, Anson for 2020, Agamemnon for 2022 and Ajax for 2024.
At the laying ceremony for the keel of the Agamemnon submarine, Deputy Defense Minister for armament, support and technology Philip Dunn announced the signing of a new long-term contract as part of the construction of the Estyut-class submarine, which will save up to 380 million pounds over the next years.
The 97-Estuyt class submarines are the largest and most powerful multi-purpose submarines of the British Navy. They are intended both for operations in the fleet, and in isolation from the main forces and can be used to perform the tasks of fighting the enemy's ships and submarines, attacking ground targets, landing troops and gathering intelligence information.
Compared with the existing submarines, the Estiut class submarines have low visibility and improved capabilities for operations in coastal shallow waters. The submarine is equipped with a Roll-Royce PWR 2 nuclear reactor that does not need to be refueled during the entire 25-year life cycle, as well as with equipment for producing oxygen from seawater.