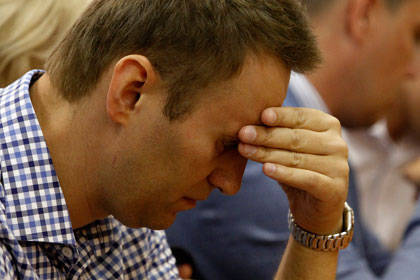 The main logger of the country received from the court "five". This
news
blew up the liberal publications, for which Alexei Navalny was a beacon in the dark kingdom. What now awaits Navalny himself and the entire political system of Russia? The system is nothing, but the "main oppositionist" is the withdrawal from the mayor race in Moscow, taking into custody and sending to those very places not so distant. What's next: "from the will" programs, folding bunks and
cleaning the well
with cleaning the interior of the official house.
Now the liberal public has a new reason to remember its old slogan about the release of political prisoners. Apparently, the authorities themselves decided to meet Navalny, who was recently actively marching under the posters "Freedom for Prisoners!", And sent Alexey to where he could feel the spirit of narrowness on his own skin. And then somehow it went wrong: many colleagues are already leaving, and Navalny, who defended them, is still at large. Now everything settled down.
In addition to Pussy, Khodorkovsky is also Navalny ... What a fertile ground for numerous publications with obvious claims on the democratic vector. Many have already spoken about this. Outside the publishing sphere, Mikhail Prokhorov decided to speak out. The former presidential candidate said that the court's decision was purely political, that no businessman had stolen the forest, by the name of Navalny, that many lawyers and businessmen after such a court decision were already starting to pack their suitcases.
Responded to the verdict Navalny and foreign publications. They responded quickly, as there were several dozens of journalists in the Kirovsky Court building representing the foreign press. It would seem, quite ordinary court, but the hype was raised incredible. The Guardian writes that the Russian authorities have drowned out the voice of one of the most popular representatives of the opposition movement. This idea was picked up by other western information platforms. There is now a reason for numerous publications in liberal publications, which have lined up on vacation, and in our country.
Now the work of the mentioned editions turn Alexei Navalny into a hero - into Nelson Mandela.