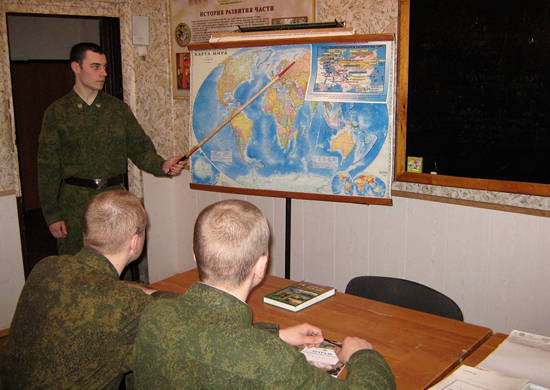 During the spring conscription of 2013, more than 10 thousand people joined the ranks of the Strategic Missile Forces (RVSN). Among recruits 13% have a higher education. Compared to last year, the number of military personnel with complete secondary education increased by 11%.
Also among the young recruits of the Strategic Missile Forces - about 30% of specialists in the operation of road transport, two-thirds of whom were trained in military occupational specialties in educational institutions of DOSAAF Russia.
The bulk of the replenishment arrived is called up by the military commissariats of the constituent entities of the Russian Federation, in whose territory the Central Military District is located, and is serving in the combat units of the Strategic Missile Forces deployed in the Central Military District.
Young recruits were transported to the formations and units of the Strategic Missile Forces during the 2013 recruiting campaign in the spring with more than 460 teams accompanied by 1000 military personnel.
More than 30% of recruits began training in the training centers of the Strategic Missile Forces, stationed in Pereslavl-Zalessky (Yaroslavl region), Ostrov (Pskov region), as well as in the school of technicians at the Kapustin Yar site (Astrakhan region). Today, experts on more than 30 military occupational specialties are trained in the RVSN training network, including multi-axle driver mechanics, driver mechanics and drivers of road and earth-moving machinery, power supply system specialists, water supply system maintenance specialists, and others.
Special attention is paid to the state of health of the young recruits arriving in the army. Within two weeks from the date of the arrival of the draft teams to the military unit, an in-depth medical examination of each soldier was carried out, his health and nutritional status were assessed with the aim of the most rational distribution of personnel across divisions and military occupational specialties.
According to the Chief Inspector of the Medical Service of the Strategic Missile Forces, Lieutenant Colonel Alexander Shalyutin, compared with last year, the number of military personnel serving in conscription reduced to a weight deficit from 8 to 6%. According to him, the number of soldiers of the autumn conscription 2012 with a deficit of body weight is currently less than 1%.
Also, all military personnel undergoing military service are being examined using the IMEDIS-EXPERT-BRT-PC hardware and software systems, and, if necessary, using the Barrier-14 polygraph. The use of such complexes makes it possible, with a greater probability, to reveal the presence of narcotic experience, alcohol dependence, criminal past, to establish the suicidal orientation of the person.
The service activity of soldiers and sergeants serving in conscription is aimed at ensuring the maintenance of the minimum level of readiness of the military units of the Strategic Missile Forces to perform tasks for the purpose in any situation. Soldiers and sergeants in the staff units, formations, shifts and calculations solve the problem of maintaining combat duty, maintain combat readiness of units and systems.