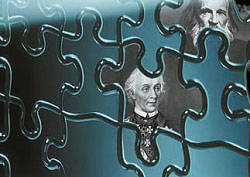 A quality elite capable of organizing the development of a country must be produced
In order to shake the country in an amicable way, a few dozen people are enough - properly trained elite managers. But current ideas about the tasks, qualities and training of such personnel are worthless.
In general, the present moment for the country can be described as favorable. Judge for yourself.
First, consciousness gradually returns to us. We have almost overcome the seduction of the West. It comes to us that, on the path of blindly copying the Western world order, no bright future awaits us. It becomes clear that democracy and the market in and of themselves do not organize life for us, that Western "partners" are, first of all, competitors, that life does not need to be allowed to flow by itself, but must be planned and built by ourselves. Moreover, there is an understanding that it will not take long to stand still: either the country will develop, or Russia will not.
Secondly, we still have some reserve of time to really take care of ourselves. The Western world is bursting at the seams, the main events of the global crisis are still ahead - our "partners" will obviously not be before us. Of course, out of habit, they can once again try to solve their problems at our expense. But the first dope has already passed (see "first"), we will not go to the slaughter, but they cannot come to us by force yet, the nuclear missile shield is still in place.
And finally, the third: at least one fulcrum, to move forward and step forward, we have. I am talking about the king. Our king is the real one. It is not indifferent to the country, for the most part it is supported by the people, it even acts a little. The signal sent through anti-corruption cases is read out unambiguously: the rules of the game change, those who think only about themselves, and not about business, have no place in the team. It seems that the necessary prerequisites are being formed for a country of twenty
historical
a pause finally came out and strode further along its own path.
At this point, talk usually begins about "the image of the desired future," "the fourth (or what is there?) Path," "empire No. ...," etc. These conversations are of little meaning, if not to say empty. Even the highest quality utopia is not able to realize itself. Utopias are not meant to be implemented at all. Utopias are important as reference points and substantial grounds for criticism of the present, but they are clearly insufficient for the organization of action.
The implementation unit is the project. A project is knowledge not about what we want, but about what and how exactly we can do in the desired direction. Moreover, the project is not only and not even so much knowledge, as acting people armed with this knowledge.
Therefore, in order to create the necessary "puzzle" for development (a set of factors necessary and sufficient for the development of a country), there is not enough small: those who organize this development. Do we not seriously think that Putin alone can be enough for such a thing? And in general, this is not a royal business - to tear the soot pads yourself. His task is to introduce into the power and control systems of the country those who will take on the main burden of project activity. But where will he take them? Will Shoigu and Rogozin smear a thin layer in all directions?
Personnel: from registration to planned production
It should be recognized that from the point of view of the development task of the country, all our personnel reserve programs are worthless. All this is a profanation. In their essence, they boil down to the fact that the young and the "successful" were put on special status lists. Maybe this fact even somehow reflects on their careers. Just what does this have to do with the subject of our discussion? Why on earth do we hope that they can develop anything? Maybe those who we need cannot be socially successful in the current system? And what does age matter? Today, many young people in their 25 often and closely can not work as they can, those who are old school and who today for 60.
I believe that it is high time for us to abandon the natural pledge in solving personnel problems: the right people will grow themselves, these green sprouts will break through the asphalt of inertia and corruption, prove themselves, etc. And the task of the high authorities is limited by the fact that they need to be noticed, entered into the accounting lists, put them on a big road, provide "opportunities for self-realization".
This whole ideology is naive nonsense. Nobody comes from anywhere. If we want to have a high-quality elite capable of organizing the development of a country, it must be produced. Instead of empty expectations should be production plans. Instead of the mythical "growing sprouts", we need the called-up, in a simple way - recruits, of whom the desired product will be received in the appropriate workshop.
How practically can this be done? Can we today somehow outline the contours of the solution to this problem? Let's try. But first you need to completely clear your own mind from false ideas and find the problem - something that has not yet allowed us to establish such necessary production for the country.
Usually, speaking of the quality of the elite, they mean its competence, professionalism, organizational skills, and ethical qualities. That is a myth. The quality of the elite does not boil down to the above. The matter is still in something ... But we ourselves feel perfectly well that neither Kurchatov Kurchatov nor Korolev Korolev themselves make neither knowledge, nor organizational skills, nor personal modesty and honesty. There is something else that lies under this knowledge, skills and abilities, something much more important. And if we want to get the desired result, we will have to answer the question: what is it?
"Elitarius" - who is he?
Production logic requires deepening our understanding of the parameters of the finished product. It should be understood that these parameters are set by the requirements of the development process itself. That is, one should not go from people, not from descriptions, which they should be smart and beautiful, but from the requirements set by the development process. We need new global trends to break through in Russia. It should not be just an industrial breakthrough.
We need to collect in Russia a complete set of processes that will determine the face of the future world. Attractive, attractive for all other countries and peoples face. We need to forget about the "world division of labor" and other nonsense. We have everything we need - for our version of world development - it should be our own.
The scale of this task is enormous. We must expand a wide scope of work. And quickly and without repression. In the spirit of creativity. Repressive resources are historically exhausted. People will not have to force, but to enthrall and engage. But the struggle is still to come.
Only naive and simple-minded may think that change is possible without resistance. Anyone who has tried to introduce something new in his company at least once in his workforce knows full well that resistance is inevitable. Nobody waits for the future and does not meet with arms. A new trend is always a change in the statuses of entire corporations and professions, the redistribution of budgets, financial flows, markets, etc. Will be against many. And outside the country, and within it. Everyone loves to talk about commitment to development, but only a few are ready to take part and make.
Therefore, if we want to develop, we need real fighters. The one who moves the development process cannot be a scientist or an administrator who calmly discusses some new trends and urges the authorities to "pay attention", "give instructions", etc. Agents of new trends are those who can say: "The process is me." There are no historical processes outside of specific historical figures.
Astronautics was a personal affair of Korolev. It was he who brought mankind into space, he knew it and felt it that way. And he did it, too, not in ideal conditions, but in conditions of real social life and struggle: competition, denunciations, resource constraints, etc. For the current leaders of Roskosmos, cosmonautics is just a job, a career at best. At worst - a source of personal wealth. They are not engaged in space there now.
A development agent is a person (group of people) in relation to whom the distinction between objective and subjective loses meaning. This is a special type of human organization. Thanks to this special organization, a person can become a development mechanism. The possibility of this lies in the structure of our consciousness. Consciousness is not just a mirror, it does not only reflect. Consciousness is active. Consciousness constructs the world and brings it outside. The primary, authentic existence of cosmonautics is in the mind of Korolev. The flight of a rocket is only the realization of royal thought. And this conceivable world is more real and close to a person than his present social environment. For Korolev, mankind, freely walking around the Cosmos, was his true homeland. And he acted as a citizen of this unknown country, as its agent, with his actions drawing us into this future.
In battle, the chance to win appears to the one who took this fight. Who counted this war as his war. Who knows where his homeland is, and is ready to fight to conquer this inert matter, is ready to prove the reality of the fact that it exists only as the contents of its consciousness. If there is no such coupling with a conceivable future and a genuine desire to achieve it, then there will be no agent for development. The soldier will not win, but avoid collisions. And he will not need any knowledge and technology. Technical sophistication and competence are needed as tools and tools only to those who engage in combat.
Thus, the production of the elite is the production of warriors, bearing on themselves various development processes, technically equipped to solve the tasks before them.
Who then are draftees?
We have described how, in principle, the organizer of development processes should be arranged. Now we have to answer the question: who will serve as the source material? From whom we will prepare the elite? Taking into account the specific historical circumstances and the small time allotted to us for overclocking, we will have to take into circulation only those from whom there is a chance to get the desired quality in a year or two. Based on this, we need to determine the parameters of a promising recruit.
Only he who has committed a moral act at least once in his life can become a conscript. The behavior of an ordinary person is aimed at improving their social position, avoiding dangerous conflicts that can worsen this situation, get the maximum of material, cultural and spiritual benefits. As a rule, this behavior is adaptive. If a person goes into a position that is transforming his social environment, then it is also focused on improving his personal status, prosperity, etc.
The simple moral action that I am talking about is the exact opposite of the described behavior. One day at one of the forums I read about a schoolgirl (it seems from Lugansk) who did not agree with the history teacher that the Holodomor was an act of genocide of the Moscow authorities against Ukrainians. The Holodomor was, but it was not a targeted action to destroy the Ukrainian nation, she argued. The teacher threatened her with a deuce for a quarter, she was called to the director, she was invited and worked out by her parents, classmates also condemned, others persuaded her to pretend that she admitted her mistake, and offered not to run into trouble anymore - it was all useless. The girl felt where the truth was, and then with numbers and documents stubbornly proved her: there was no genocide! The benefits and benefits of such stubbornness are zero, but there are a lot of problems. And still stood her ground.
This is what I call simple moral action. A person acts "from the abdomen", from the feeling that this is the way it should be, that's right — that's all. Acts in spite of everything. And this action has in its basis not egoistic needs, but values ​​(in this example the "truth" was such value). Morality is also pragmatic, but with respect to the survival of the population and for a long historical period of time, it is no easier for a person in a particular situation. The ability to act on value bases, contrary to all circumstances, is the essence of a warrior, is its core. Morality is meaningful, in the course of preparing a development agent, it can be expanded and complicated, but the initial ability to act must already be.
We need people with great internal tension as recruits.
On the one hand, a person should already have a certain scale of his personality. He must feel himself in perspective as a historical character, one who is in proportion to his great historical processes in his potency. Such a person thinks himself acting on large bridgeheads, represents himself as a participant in the world game (historicity is not at all the same as career orientation).
On the other hand, the actual life trajectory of the recruit does not correspond to his high claims. And he himself in his actual abilities and capabilities is very far from his self-image. And he understands this. Inclusion in the elite program and subsequent work in positions of responsibility should be for him the resolution of his personal situation. He has yet to set historical goals, substantively substantiate and formalize his sociocultural insolence. All the content that he will have to assimilate and rework, the position that he has to take and defend, will be a way to remove, overcome this internal gap. This is the energy of the process. On this energy the country will develop.
Another requirement for a recruit is the ability to separate one's identity from activities and knowledge. He will have to go through very rigid training regimes, during which it will almost certainly become clear that all his ideas and knowledge, all his usual ways of working are worthless. He must be able to withstand it, stop holding on to "his own opinion", not get hurt, but on the contrary, with the desire to grow new abilities in himself.
It is necessary that the draftee had some initial subject competence and experience in a particular industry. The activity to be developed should already be stamped to one or another extent on the recruit. This experience will be the subject of reflection, analysis and transformation at the appropriate stages of preparation. We do not need people without an experience of a dense, intensive, active life: without the experience of experiences, collisions, relationships, conflicts and personal crises, etc.
Of course, our recruit must have organizational experience and general soundness. We do not need kindergarten and crazy citizens.
Can we, in a country with a population of 140 million, recruit 200 people who meet the listed requirements? For some reason it seems to me that all is not lost, you can find much more.
Production secrets
There is no need here to describe the device input filters, the selection mechanism and the actual production. All this can be designed and organized. Let me just say about the basic workflow.
Its essence is to lay down in this group a sense of historical time, a sense that they take on historical work. And again, the matter cannot be arranged in such a way that experts and other professors will come and tell them about current world trends. The task is not that they learn about historical processes. The task is to privatize these processes, put them inside themselves, identify with them. Personal goals must become historical, and vice versa.
This almost mystical act of historical self-determination can be made only on the basis of reflection of one's own experience and further on the basis of personal effort for its (experience) mental and cultural design. This does not need to be understood in such a way that experts, political scientists, specialists in different ways and empires, psychologists, etc. should not be involved in the preparation of this group. They should not be allowed to manage the process and its organization, but they can even be on special technical positions very helpful.
And what is the result?
I believe that even a few dozen charged and prepared people can greatly influence the overall situation in the country. For a start, it would be possible to select and train one team of people in about fifty in the following areas:
- The sphere of human production (religion, education, health, physical education and sports, cinema, theater, art, tourism);
- power unit (army, special services, police);
- the sphere of production of living conditions (food, housing and communal services, construction, etc.);
- The sphere of breakthrough areas (science, engineering, space, everything in the world nano-, bio-and other technologies);
- civilized construction;
- managing people's relationships, organizing a hostel (law, courts, media, internet).
Do not be naive and think that a few dozen people will come and change everything in the country immediately. No, but a qualitatively new resource will appear in the country. And the most expensive resource is a development resource. If you correctly dispose of them, then we can even have a future. Optimistic?