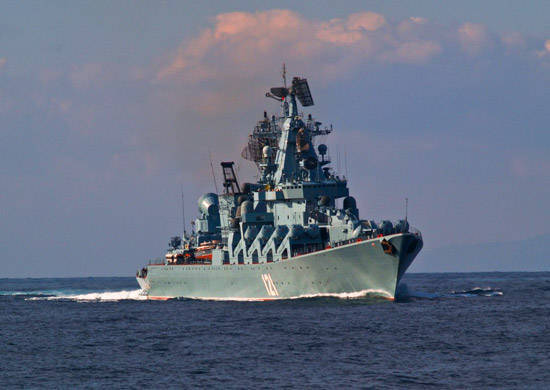 ФлР° РіРјР ° РЅ Черноморского
fleet
Guards missile cruiser (GRKR) "Moscow" under the flag of the Deputy Commander of the Black Sea Fleet Rear Admiral Valery Kulikov is completing tasks in the Mediterranean Sea.
At the sea crossing from Sevastopol on the ship, a number of special ship training and exercises on the organization of air defense, the struggle for survivability and anti-terror were conducted.
On July 12, the GRKR "Moscow" will proceed to the Strait of Gibraltar into the Atlantic Ocean, and on July 13 will make a business visit to the Portuguese capital Lisbon.
After the cruiser completes its program of entry into Portugal, an inter-fleet squadron of warships will be formed, which, in addition to GRKR "Moscow", will include the large anti-submarine ship of the Northern Fleet "Vice-Admiral Kulakov" and support ships.