Once I heard the following phrase from a friend of the special forces: "It's scary not at war — it's scary after the war." I truly understood the meaning of these words when I met a man who had miraculously returned from the dead. This is Senior Lieutenant Yevgeny Vorobiev. Scout 46-th separate order of Zhukov brigade of operational designation of internal troops, which is deployed in the Chechen Republic. After being seriously injured, he spent a whole year in a hospital ward. Suffered eight operations. Five times he was in a state of clinical death.
We met with Zhenya in Grozny. Two months after discharge. Senior Lieutenant Vorobyev returned to service, and soon he was given a well-deserved reward - the Order of Courage.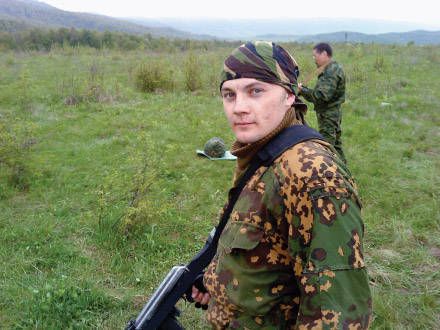 Since childhood, Zhenya lived according to a strict schedule: getting up at six in the morning, exercising, running, lessons at school, then practicing music on the button accordion and piano, and in the evening several sports sections. He loved when life is saturated to the limit. He liked to set himself new goals and overcome difficulties on the road to success.
The Sparrows lived in the Altai village of Golukha: a private house, three children — Zhenya, Kolya and Rajechka, a large farm — cows, goats, horses, their own apiary, and around — the taiga. In the saddle Zhenka sat confidently at the age of five, and indeed he was a clever guy. Not being tall, he successfully played basketball, he was great at jumping and was always ahead of his peers in the obstacle course.
Father, Arkady Alexandrovich, conducted boxing and hand-to-hand training with his son. Having finished beating the "pear" in the gym, Zhenya went to the rehearsal at school. With friends, they organized a vocal-instrumental ensemble. Sparrow and here was a jack of all trades - he could play both the piano, and the synthesizer, and the button accordion.
When it came time to choose a profession, he was increasingly thinking about enrolling in a military school. My cousin Sashka was already wearing cadet shoulder straps and, coming on vacation, spoke with passion about his studies at the Novosibirsk Military Institute of Internal Troops. Learning to be an officer meant not only getting a decent profession, but also escaping from the village, where the only "city-forming" enterprise, a cement plant, has long ceased to be a prestigious place of work.
Entrance examinations at the Novosibirsk Institute Vorobiev passed without much difficulty and was enrolled in the reconnaissance platoon. Zhenka liked the field exits the most. At times, scout cadets for five days were thrown into the taiga by five turntables, from where they had to independently get to the location of the training center in Iskitim. Here, then, an educational base was being built for the training of servicemen for special-purpose units. The cadets made many objects of the training complex with their own hands. In the educational center, in his spare time, the cadet Vorobiev managed to demonstrate his abilities in various fields. For example, often served as a cook. He loved to cook, and he did it well. It seemed that any task was on the shoulder of a small, nimble kid.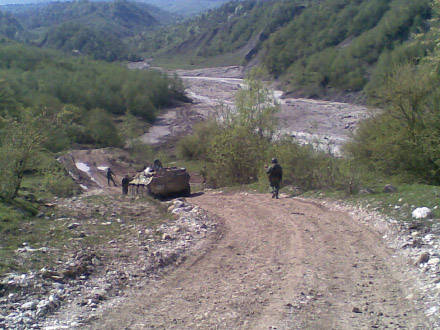 At the end of the school, he wanted to distribute himself to where intelligence has real combat work. I heard a lot about 46-th separate operational brigade, so I expressed a desire to serve in one of the parts of this belligerent formation.
From Siberia to Rostov, from Rostov to Mozdok, from Mozdok to Grozny - for the Siberian boy everything in this journey was new. When the helicopter, rising in Mozdok, was heading for the "Northern", Zhenka eagerly looked out the porthole, and was breathless from excitement: he hovered over the snowy caps of the mountains, flew towards a new life full of fighting romance, adventure and victories.
Fight at Hattuni
- Sometimes you go through the mountains, and you don't want anything. There is no power, it would have fallen. And you have to go. You have to overcome yourself, you have to do the task in any way, "says Zhenya, and in his voice there is unbroken strength. When he arrived in the Caucasus, it seemed that children's dreams came true: here it is - a real combat job - exploration and search, waiting for militants in the barriers, escorting military columns. Somehow the lieutenant did not think about the danger. He even neglected omens when he asked a colleague to take a picture of himself on a mobile phone in the Veda forest near the village of Khattuni. On the tree, near which the picture was taken, scribbled date - 19.07. (2010 year). A few minutes after photographing, a trail of bullets will appear on the bark of the tree next to this date ...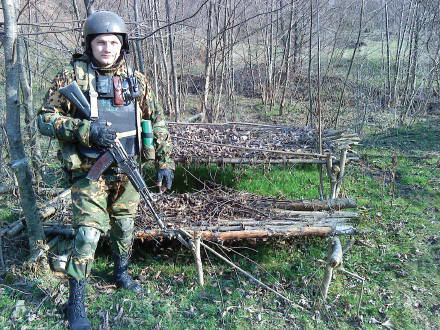 "It was a wonderful clear weather," recalls the scout, "we were abandoned to the search area the night before. It was necessary to find a base of militants. I walked in the head patrol. The trail led from the top down. Her instinct prompted us to stop and carefully check this place. I turned to my fighters to give a sign, and at that moment, under the exclamations "Allah Akbar!" They started shooting at me. As it turned out later, a post of observation was equipped in the dense thickets of the bandits. They saw how we were going, and they waited on purpose when we descend closer to shoot us point-blank. The very first bullet hit me in the stomach ...
"I was in such a position that it was most convenient for me to get to Lieutenant Vorobyov," adds Sergeant Pavel Shkatov, the squad leader. - The platoon commander fell two meters away from a large tree, but did not lose consciousness and continued to fire. I crawled to him 7 – 8 meters, but this segment in the rain of bullets seemed so long!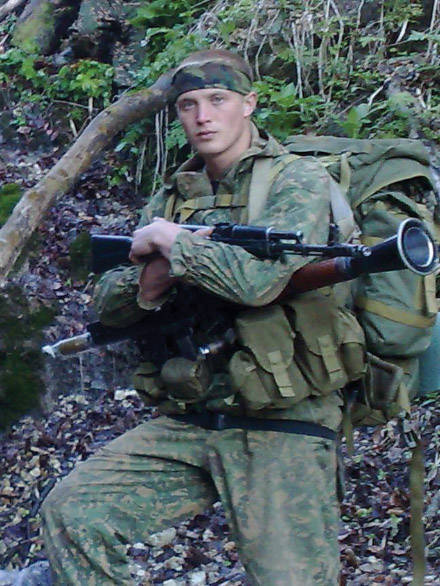 - Pasha got close to me, injected a painkiller and put an icon in my hand. I fired a grenade launcher, and he reloaded my store. At the base was 8 gangsters. To them just meters 15. Then two of our machine gunners arrived. After bringing down a barrage of fire, they forced the bandits to leave. One of them was destroyed. The fight went on for about fifteen minutes, but life during this time has been scrolling through our thoughts several times. It was terrible one thing - to be captured.
"I tried to drag the commander to the tree, but the next bullet was now mine ... A blow to the right shoulder, a lung rupture. I don't remember anything further, Pavel says, nervously smoking a cigarette.
- I felt the strength go with the blood. I then lost two and a half liters of blood. - Sparrows invigorates and tries to speak aloof, as if it was not with him. "Pasha and I were carried on stretchers for two kilometers, making our way along mountain paths through ferns thickets. I thought about my parents. It was a pity them. I did not count on life. Of course, I didn't want to die; I was only comforted by the fact that I ended my life with dignity, like a man, by completing the task set before me.
Wedding in the hospital
What is love, Zhenka understood as a teenager. In music school, he sat at the same desk with Tanya Ovchinnikova, which he terribly liked. He could not explain why, but next to her he was just fine. And, returning from the lessons, he always looked forward to a new day, to see Tanya again.
In high school, Tanya had a new boyfriend, and Zhenka often had to fight him, and then he decided not to annoy his girlfriend and, leaving for Novosibirsk, he didn't think that she would wait for him. From time to time they called each other in a friendly way, sometimes they saw each other in Golukha while on vacation. At the end of the fifth year, Vorobev phoned Tanya and invited him to graduation. She replied: "I will come."
In the restaurant, where the newly-minted lieutenants were washing their first stars, about sixty people gathered: yesterday's cadets, their wives and brides, teachers, course officers. At the very beginning of the evening Zhenka asked for the floor. He got up from the table, took the microphone and, congratulating the classmates, said:
- Today I am very happy because a girl came to me, whom I love very much. Her name is Tanya.
The hall applauded, and Tanya was taken aback by excitement and happiness.
They spent the holidays together, then Tanya returned to Barnaul - she studied as a technologist at the food institute, and Zhenka went to serve in the Caucasus. They called each other every day. When the scouts left for the mission, Zhenka reported:
- Tanya, I'm leaving for work. Three to five days I will not, but do not worry, I will definitely return and call.
In those July days, Tanya waited for the call. Five days have passed - the subscriber is unavailable. Seven, eight, nine ... She learned about Zhenkin's injury from his cousin.
The first operations to lieutenant Vorobevu were done at the hospital of the 46 brigade in Grozny. Three days later he woke up. Rather, for the first time after losing consciousness, he gave a vote. He screamed and raged. He dreamed of war, shooting, militants who attack from all sides. And this dream was spinning endlessly. Three days later he came to himself. The treatment continued in Moscow. To be honest, the doctors did not believe that they could get such a heavy patient on their feet. He turned all the entrails. After each operation, Zhenya was entangled in countless wires and tubes. The aching pain gave no rest for a minute. It was painful to even talk. He is very thin, did not get up for a long time. When I got up, I felt dizzy, my legs would not obey. If someone was weaker in his place, you would probably prefer to die than to endure these torments. But Zhenya wanted to live. He was not used to giving up. He hid from his parents to the last that he was wounded, and when they learned, he strictly forbade him to come to his hospital. I did not want to upset loved ones. Tanya, however, did not obey the ban and arrived at the hospital.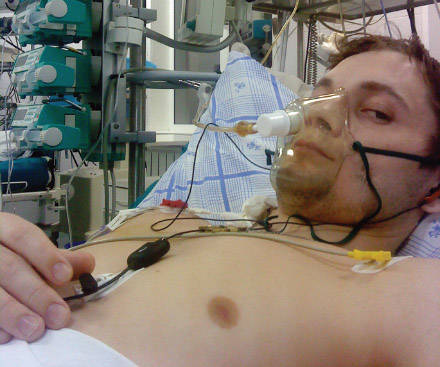 - See, I'm injured. I do not know, survive or not. I do not want to be a burden for you. Think it over. I will take any decision of yours, "Zhenka told his bride.
"I will wait for you to recover." I will not leave you, - answered Tanya confidently.
Then again, operation after operation. Fight for life. Greedy fight. On the return to the system was not the question. It took 10 months, as Vorobyev was hospitalized. By that time, he had already begun to walk, he was on his own, a little recovered.
- I'll fly to you. She missed you very much - Tanya called.
"Take a prettier dress with you," said Eugene. "Maybe we'll get to the restaurant, I'm almost healthy."
Sparrow persuaded doctors to let him go to the airport to meet the bride. Let's go with a friend. Having met his beloved, Zhenka immediately presented her with a ring bought at the airport, put him in a car and ordered the driver: "We are going to the registry office!". On that day, they filed an application, and the next morning the registrar officers themselves arrived at the hospital to paint an unusual young couple. The guests were doctors, the priest of the hospital temple Father Alexei and the conscript Misha Nikitenko, who served in the hospital and helped the lieutenant take the first steps after the most complicated operations.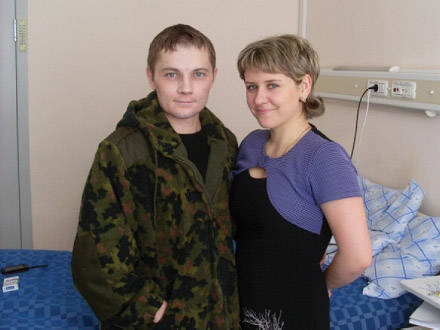 Exactly one year after being wounded, now Senior Lieutenant Yevgeny Vorobyev returned to Chechnya. In build.
"I now doubly appreciate life, because I know: it can break off too quickly and unexpectedly," the officer finally admitted. - I think a lot about changing my life, moving service, war, intelligence to the background, devoting myself to my family. But not yet. There is a duty and a real man's work that does not let go yet. Yes, and I, to be honest, will not quite me. And another thing ... - Yevgeny turned to me noticeably softening his tone, - write about Tanya, write that I love her very much.