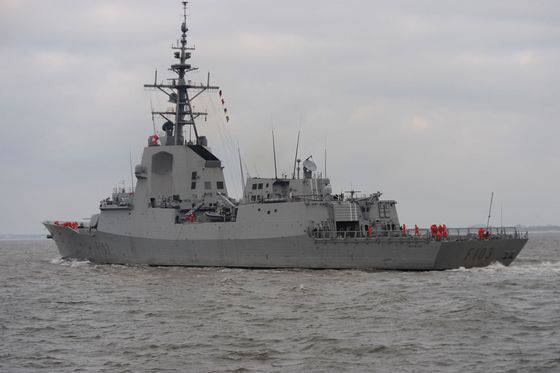 The Spanish Navy frigate Blas de leso (F-103) of the F-100 class will arrive in Istanbul on July 25 for a three-day visit as part of a marketing campaign to sell anti-aircraft frigates to Turkey.
According to Janes Defense Weekly, the Spanish company Navantia is in talks with the US Navy and Lockheed Martin (supplier of the Aegis command and control system) about the joint sale of F-100 Fly.2 ships as part of the supply of the Turkish Navy four air defense frigates under the program TF-2000.
The feasibility study of the TF-2000 program is expected to be completed by the end of the year, which will allow the design and tender procedure to proceed.
The package offered by Navantia includes a three-coordinate multifunctional SPY-1D (V) radar and full technology transfer for the construction of ships in Turkey. However, the agreement with the national partner has not yet been signed.
Earlier, under the contract concluded in 2011, Navantia has already integrated the Aegis system with the GENESIS combat management system of the Turkish company Havelsan, which is one of the requirements of the TF-2000 program.
Despite Navantia's efforts to sell the F-100 frigates of the Turkish Navy, it remains unclear to what extent Ankara is interested in purchasing an existing project for the TF-2000 program.
It should be noted that Turkey had previously refused to cooperate with the United Kingdom on the program for developing the "Single combat ship" of the "Type-26" class due to the fact that it does not meet the requirements for the air defense frigate.