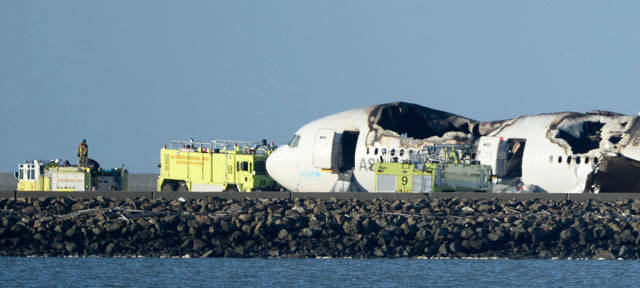 One of the pilots of the South Korean airline Asiana Airlines, a Boeing 777-200 crashed in San Francisco, claims that he was blinded from the ground by a laser during an approach. This information will be verified by the United States National Transportation Safety Administration (NLTS).
Investigators found that the evacuation of passengers was not organized quickly enough. According to the instructions, the crew had to organize an evacuation within 90 seconds after the vehicle stopped, but this was done only after the engine was reported to the captain. "We need to understand what the personnel were guided by," said Debora Hersman, head of the NUBT.
It was also established that the first fire engine arrived at the wreck of the airliner two minutes after the plane stopped, ITAR-TASS reports.
At the moment, flight attendants and flight attendants of the aircraft were interviewed, except for three people who are in the hospital. After the plane hit the ground during landing, its tail was blown off. In the hole in the fuselage on the flight strip threw three crew members.
Boeing 777-200, flying from Seoul, crashed on July 6 while landing at San Francisco airport. There were 307 people on board. Two passengers were killed, 182 injured.