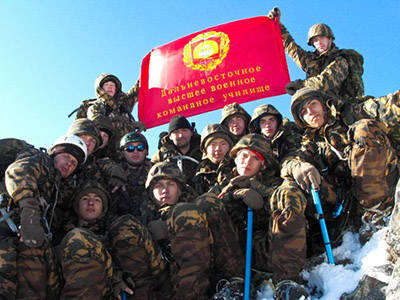 Far Eastern Higher Military Command School (Military Institute) named after Marshal of the Soviet Union KK Rokossovsky, formed in 1940, as part of his jubilee, one hundredth in a row, issue sent officers to the troops in the specialty "The use of motorized rifle units (mountain)".
During the training, the mountain students made climbing Elbrus, underwent mountaineering training in the camps of Bezengi, Dzhantugan, Ullu-Tau, in the eastern Sayan Mountains, on the military training ground of Daryal, visited the mountain units of the armed forces of India, underwent training in the mountain teams of the Southern Military District. As a result of training, dozens of instructors for mountain training and sportsmen-arresters for mountaineering have been trained.
Also issued this year, officers of the Marine Corps, while studying at a school, undertook maritime practices, made long-distance sea trips to South Korea, around Europe.
The first graduation of platoon commanders for the Red Army at the school took place in June 1941. The titles of Hero of the Soviet Union were later awarded to 27 graduates. Among the students of the school are also 8 Heroes of the Russian Federation.