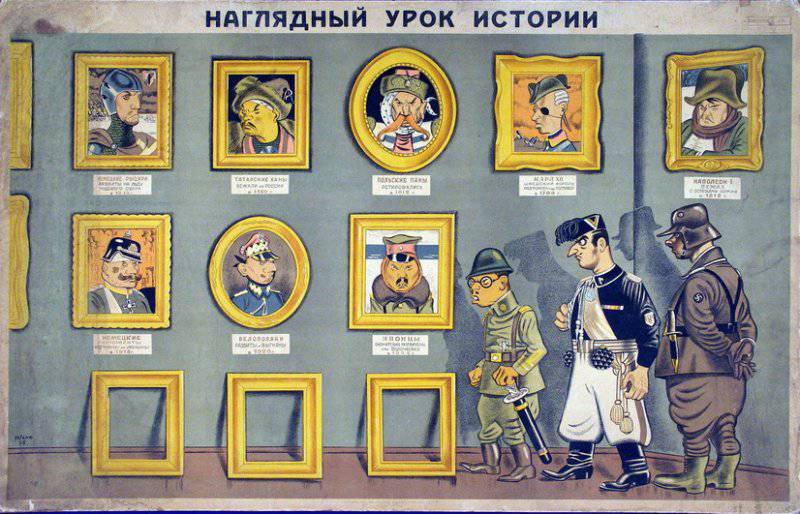 Dear forum users!
I understand that I can cause the anger of some colleagues, in general, the topic is not military, but at the same time, all military people have children, and some already have grandchildren. In the end, we are all citizens of our country and we are not indifferent to the future of our children. Therefore, I offer to your attention a selection of teacher Sergei Schmidt. He is an associate professor at the Department of World
stories
and international relations of Irkutsk State University. This year, he checked the history of the EGE-2013. He published pearls from the works of schoolchildren. These are tasks of difficulty level "C" where descriptive answers are assumed. So these are the pearls of schoolchildren from these answers.
You can loudly resent the level of knowledge of children, you can laugh at some of the answers. But it is worth thinking about the fact that despite all the innovations in textbooks, they are trying to make some comparison of modernity and our history. Even if it goes on a subconscious level. So all is not lost, and you should not lament the lost generation. Contrary to all reforms in education, they think and try to reason. And they make simply stunning conclusions. And the task of parents to help their children. Tell them where they are wrong, offer them some books, even if they look in the internet, read them. Yes, just discuss these answers together, even if they have not yet passed these tests. What will your children tell you? Sometimes they say that they simply do not know what to talk about with children, they are so different from their fathers. Interests do not coincide at all ... So such a topic - a discussion of "pearls" is also very suitable. And it will certainly help you understand which topics you should pay attention to. Present your vision to children, refute the lies that they are trying to impose. Prompt, and what the authors "missed" and why some topics "do not see them point-blank." Your children will understand and support you!
About Ivan the Terrible
(EGE-history, 2013 year).
"Ivan the Terrible stood at the lowest stage of human development."
"Among the oprichniki, Ivan the Terrible had authority. The rest treated him like a psycho. "
"Ivan the Terrible did not allow people to lead a deviant lifestyle."
"Under Ivan the Terrible, on Bolotnaya Square, they chopped off their heads, and did not shout at all, which was horrible."
"Stalin could win the Livonian war. Ivan the Terrible was not Stalin after all. "
"Ivan the Terrible loved spirituality, which did not prevent him from roasting the people of Novgorod at the fireplaces."
"Under Ivan the Terrible, no one would have saved the philosophical steamer either."
"Ivan IV from childhood did not like people, because of what happened mass executions."
"The best minds cut off the executioner Skuratov."
Nicholas I and his era
(EGE-history, 2013 year).
"Under Nicholas I, society turned into a herd."
"Nikolai just wanted to bring order to the heads of the cast."
"The peasants also wanted to rebel against Nicholas I, but the Decembrists did not take them to Senate Square. After that, the peasants hated everyone. "
"Hospitable Siberia waited for the Decembrists."
"The Decembrists are guilty of tightening the screws because of them.
"Chaadaev is a mental figure in the times of the reaction of Nicholas I."
"Thinking people always want something. But the authorities are not always enough for thinking people, because they themselves need to. "
"Moscow University is the only place under Nicholas I, where you could carry anything, without fear that your mouth will be shackled."
"Everyone who did not want to be a gray horse, entered the Moscow University, because Chaadaev himself taught there."
"When social life is suppressed, there are only two consolations - vodka or Hegel's philosophy."
Soviet and post-Soviet history
(EGE-history, 2013 year).
"After the civil war, the conscripts settled in the cities."
"Vykulachivanie peasants began."
"The peasants moved to the city because people were sent from there to the Gulag, that is, jobs, even well-paid ones, were constantly vacated."
"Peasants were lazy to work on collective farms. At the factories, they could have been forced to do at least something. "
"Collective farmers fled to the city because there were more healthy men there."
"Khrushchev suppressed the slave uprising in Novocherkassk."
"The country was flooded with corn, but there was nothing."
"Grandma often tells me that Yegor Gaidar himself had to be shocked for his" therapy "."
"The policy of money terror began in 1990."
"Gaidar transferred Russia to market rails. And Yeltsin, by the way, promised to lie down on them, but he did not lay down. Sold all foreign investors. Gaidar, by the way, didn't get that much.
About brezhnev
(EGE-history, 2013 year).
"Brezhnev had big eyebrows and a strange speech. He was an outstanding and amazing man, his actions served for the good of Russia and therefore we all love him and know him as a plump and more than a black man. He directed his activities in different directions. I would shake hands with such an outstanding person like Brezhnev. "
"Under Brezhnev, faith in the authority of agriculture was killed."
The Prague Spring is a rebellion in the Czechoslovak Corps in 1918. "
"In 1979, the Cold War began with Afghanistan."
"Brezhnev sought to disarm the so-called fraternal socialist countries so that they did not stab him in the back."
Six more masterpieces
(EGE on history, 2013-th year).
"The Ottoman Empire in those days was aloof from drug trafficking."
"The military-patriotic backwardness of Russia manifested itself in the Crimean War."
"The policy of the king caused hunger and rabies of the population."
"As long as the peasant is in the community, he does not want to change the world."
"The forced peasants worked more and did not have a social package."
"The landowners organized raids on the peasants, then the Bolshevik commissars joined this."
"Impunity attacks of the authorities on the population, imposition of bribes on the workers were committed ...".
Top 10 about women in history
.
"Princess Olga before her marriage with Prince Igor bore the name Beautiful."
"Princess Olga was cunning, wise and holy."
"Elizaveta Petrovna was considered the first beauty among her friends."
"Elizabeth herself led the Preobrazhensky regiment to storm the palace, which was guarded by the soldiers of Anna Ivanovna. When it was necessary to run, her dress interfered. A pair of soldiers raised it and carried it on their shoulders to the end. "
"Win a war and open a university, well, isn't it an indicator of the quality of government, especially women, which by definition is difficult to manage."
"Elizaveta Petrovna pulled Kulibina out of poverty, in which he was drinking."
"From different parts of the country, people followed the education to the Moscow University founded by Elizabeth."
"I think that if Elizaveta Petrovna would have listened to her men less, she would have become as great as Catherine II."
"Despite her responsibility in the affairs of the state, Elizabeth led an idle life, which is why she died."
"This was requested by the empress peasant slaves."
.............
Do you think that you can only discuss "pearls" in history? You are mistaken! Sometimes it is worth paying attention to the knowledge of our children about everyday life! It turns out that the most elementary things passed by their attention. But maybe this is our fault?
Do you do much with children?
? Beat, paint, fix, and so on, and so forth ... well, judge for yourself. I quote in full the letter of fellow teacher Zoya N.
"A little bit of real-unreal stunning of the test
full-time student.
I was wrung uncontrollably from the first part, I could not immediately check, I rested.
A group was writhing along with me, because they very much asked to read, why I feel so good ...
Glory to this student sunk gradually. At first they wrote a control, I didn't check right away, I left the leaves in college. He was unwell during this time, and when I started checking for a pair, I was absent. I did not read the group completely, I left the intrigue, but they themselves guessed. I read it the next time, with the author. Everyone is happy from such "creativity" and asked to evaluate positively.
Question: The essence of pickling vegetables
Answer: Vegetables are taken and kvashut, for children and people without teeth. Any vegetables sour, even fruit and meat.
Question: The essence of salting vegetables
Answer: Salting is done so that vegetables can be salted.
Question: How and why are vegetables dried?
Answer: Vegetables are dried so that they are not wet and clean and tasty.
Question: The essence of sterilization, as a method of conservation.
Answer: Vegetables are sterilized from germs and all sorts of beetles, so that you can eat later.
Question: The main processes of industrial production of canned vegetables.
Answer: First they find a vegetable, then they pick a vegetable, then they peel a vegetable, then they sterilize it, then they buy canned vegetables at the plant, then they put the vegetable into a can of vegetables and close it
Question: What is natural canned vegetables? (In short - it is canned peas and corn)
Answer: Some of them make juice
Question: Juices and nectars - what is the difference?
Answer: They are made in factories and can add all sorts of nastiness. A juice nectar can be squeezed at home through a juicer and it will be delicious, but this is a completely different story.
................
Masterpiece!"
As you see, you and I have a wide range of activities to correct our omissions.