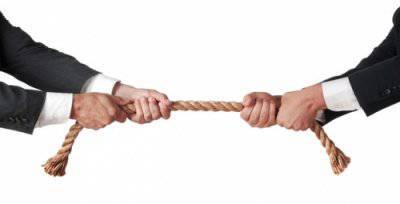 Entry author
This brief guide is not intended for the participants of the controversy, but for the readers, so that they can at least approximately be guided in the methods of the polemical struggle. I'm talking about tricks, but not about the rules, because in the newspaper controversy, unlike all other types of wrestling - fights, duels, fights, battles, fights, matches, tournaments and general competitions in man's strength, there are no rules - at least least with us. In the classic wrestling, for example, it is not allowed that opponents swear during the competition. In boxing, you can not strike in the air, and then declare that the enemy is knocked out. With a bayonet attack, it is not customary for the soldiers on both sides to slander each other — journalists in the rear are doing this for them.
But all this and even much more are perfectly normal phenomena in verbal controversy, and it would be difficult to find anything that a connoisseur of journal disputes would recognize as an unlawful method, ignorance of battle, rough game, deception or ignoble trick. Therefore, there is no way to list and describe all the techniques of polemical struggle; The twelve tricks I give are only the most common ones encountered in every, even the most unassuming, battle in print. Those interested can add a dozen others.
1.
Despicere
(look down on - lat.), or the first reception. It consists in the fact that the dispute participant must give the opponent his intellectual and moral superiority, in other words, make it clear that the enemy is a limited, weak-minded, graphomaniac, chatterbox, perfect zero, exaggerated, epigone, illiterate cheater, bast, chaff, a scum and in general a subject unworthy of talking to him. Such an a priori premise gives you then the right to that lordly, arrogantly lecturing and self-confident tone, which is inseparable from the notion of "discussion". Argue, condemn someone, disagree, and at the same time maintain a certain respect for the enemy - all this is not part of national traditions.
2. Reception second, or
Terms
(terminology - lat.). This technique consists in the use of special polemical turns. If, for example, you write that Mr. X, in your opinion, is wrong in some way, then Mr. X will answer that you "have fallen faithlessly upon him." If you think that, unfortunately, there is something lacking in logic, your opponent will write that you are "sobbing" over it or "shedding tears". Similarly, they say "sputtering saliva" instead of "protesting", "slandering" instead of "noting", "throwing mud" instead of "criticizing", and so on. If you are even a human being extremely quiet and harmless, like a lamb, with the help of such expressions you will be visually described as a subject irritable, insane, irresponsible and partly abnormal. This, by the way, will by itself explain why your esteemed opponent attacks you with such vehemence: he simply defends himself against your treacherous attacks, swearing and scolding.
3. The third reception is known as
Caput canis
(here: to attribute bad qualities - lat.). It consists in the art of using only such expressions that can create only a negative opinion about the enemy being beaten. If you are circumspect, you can be called cowardly; you are witty - they will say that you are applying for wit; you are inclined to simple and concrete arguments - you can declare that you are mediocre and trivial; you have a penchant for abstract arguments - it is advantageous to present you as an abstruse scholastic, and so on. For a clever polemicist, there simply are no properties, points of view, or mental states on which a label could not be stuck, revealing, with one's name, the amazing emptiness, dullness and insignificance of the persecuted enemy.
4.
Non habet
(here: state absence - lat.), or the fourth method. If you are a serious scientist, it is easy to triumph over you with the help of the third method, stating that you are a slow-witted, talkative moralist, an abstract theorist, or something like that. But you can be destroyed and resorted to the reception of Non habet. You can say that you lack the thin wit, immediacy of feelings and intuitive imagination. If you find yourself to be a direct person with a delicate intuition, you can be put off by saying that you lack solid principles, depth of conviction and moral responsibility in general. If you are rational, then you are no good for anything, because you lack deep feelings, if you possess them, then you are just a rag, because you lack higher rational principles. Your original properties do not matter - you need to find what you are not given, and trample you into the dirt, starting from this.
5. The fifth method is called
Negare
(here: to deny the presence of - lat.) It consists in a simple denial of all your, all that is inherent in you. If you are, for example, a pundit, then you can ignore this fact and say that you are a superficial talker, windbag and amateur. If you stubbornly asserted for ten years that (let's say), believe in a damn grandmother or Edison, then in the eleventh year you can be told in a debate that you have never risen to a positive belief in the existence of a damn grandmother or Thomas Alva Edison. And it will come down because the uninitiated reader does not know anything about you, and the initiate feels a feeling of gloating from the consciousness that they deny the obvious.
6.
Imago
(here: substitution - lat.) - the sixth reception. It lies in the fact that some unimaginable scarecrow, which has nothing to do with the real enemy, slips the reader, after which this fictional enemy is destroyed. For example, thoughts that the enemy never came to mind and whom he, naturally, never expressed, are refuted; he is shown that he is a fool and he is deeply mistaken, citing really silly and erroneous theses as examples, which, however, do not belong to him.
7.
Pugna
(beating - lat.) - Reception, akin to the previous one. It is based on the fact that the adversary or the concept he defends is assigned a false name, after which the whole controversy is conducted against this arbitrarily chosen term. This technique is used most often in the so-called fundamental polemics. The enemy is accused of some indecent "change" and then they get rid of this "ism".
8.
Ulises
(Ulysses (Odyssey) - a symbol of cunning - lat.) - reception of the eighth. The main thing in it is to turn aside and speak on the merits of the question. Due to this, controversy is livened up favorably, weak positions are masked and the whole dispute becomes infinite. This is also called "harassing the enemy."
9.
Testimonia
(certificates - lat.). This technique is based on the fact that it is sometimes convenient to use a reference to authority (whatever), for example, to declare "even Pantagruel spoke" or "as Treychke proved". With a well-known reading for each case, you can find some kind of quote that completely kill the enemy.
10.
Quousque ...
(until ... - lat.) The reception is similar to the previous one and differs only in the absence of a direct reference to authority. They simply say: "This has long been rejected," or "This is a stage already passed," or "Every child knows," and so on. Against the fact that it is refuted in this way, no new arguments are required. The reader believes, and the adversary is forced to defend the "long-refuted" - a rather ungrateful task.
11.
Impossibile
(here: it should not be allowed - lat.). Do not allow the enemy to be at least right in anything. It is necessary to recognize him even a grain of mind and truth - all controversy is lost. If another phrase cannot be refuted, there is always the opportunity to say: "Mr. X takes to teach me ...", or "Mr. X operates with such flat and long-known truths as his" discovery ... ", or" Marvel the whole world! The blind chicken found the grain and now cackles that ... ". In a word, there is always something, isn't there?
12.
Jubilare
(triumph - lat.). This is one of the most important tricks, and it consists in the fact that the battlefield must always be left with the air of a winner. The sophisticated polemicist is never defeated. The defeat is always his opponent, who was able to "convince" and with which "finished." This is what distinguishes the controversy from any other sport. The wrestler on the carpet honestly admits himself defeated; but it seems that not a single controversy has ended with the words: "Your hand, you convinced me". There are many other methods, but save me from describing them; Let literary critics collect them in the field of our journalism.