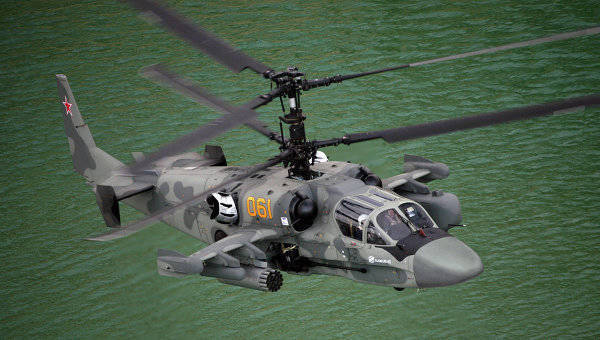 The new Ka-52K ship-based helicopter, which creates the Russian Helicopters holding, will have stable anti-corrosion treatment, folding blades and wing consoles, the press service of the holding said on Wednesday.
MBMC-2013, which takes place every two years, will start in St. Petersburg on Wednesday, July 3, and last until July July. The exposition and exhibition section will be located in four pavilions of the Lenexpo exhibition complex with a total area of ​​over 7 thousand square meters, in open spaces and in the waters of the Gulf of Finland, as well as at the berths of the Naval Station.
"Developing a line of traditional for
fleet
naval helicopters, the Russian Helicopters holding is preparing new programs. So, the Ka-52 Alligator helicopter will be presented at the IMDS, on the basis of which a new modification of the Ka-52K is created in the interests of the Russian Navy. It is planned that specifically for basing on ships, the Ka-52K will have stable anti-corrosion treatment, folding blades and wing consoles and other technical solutions, and a number of helicopter systems will be adapted for use in the fleet, "the report said.
It is noted that the maritime version of the "Alligator" may be interesting for countries that are actively developing their naval forces. In the Russian Navy, this helicopter, first of all, is intended for possible deployment on universal landing craft of the Mistral type.
In addition, together with Rosoboronexport OJSC, the Russian Helicopters holding will acquaint potential customers of naval helicopters with the unique capabilities of the Ka-31. This helicopter is designed to protect the formations of warships operating outside the zone of action of the coastal radar and AWACS planes from air strikes. Ka-31 provides detection of air targets (including low-altitude against the background of land or sea), as well as surface targets and automatic transmission of information about them to land and ship control stations or air defense systems.