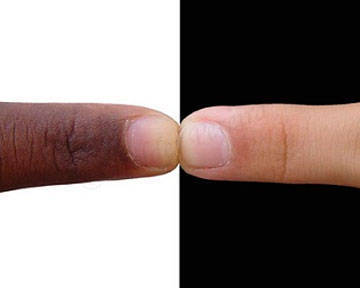 As you know, extremes converge. This thought pushed me
news
that the European Parliament has deprived the parliamentary immunity of Marine Le Pen - the leader of the National Front of France.
There are several definitions of racism. But his goal is the same - the domination of the declared "chosen" race over the others and / or the destruction of some undesirable race. Thus, the racists of Hitler's Germany destroyed tens of millions of people declared inferior, Slavic and other peoples, exterminating them physically and in specially created for this, following the example of the English concentration camps, as well as right in the places of residence, burning alive whole settlements.
But the same Chinese also solved the problem of destroying their northern competitors, the "white nosed monkeys", by the method of their assimilation. And not only cultural, but also racial. Even now official science knows that dark genes are dominant. Therefore, a number of peoples of the white European race who once lived on the territory of modern China have disappeared today, leaving
stories
only names, like dinlins, or only mummies, which are found by chance in the territories that provide their climatic conditions with their climatic conditions.
Accidentally or deliberately (and then maliciously), the European Parliament officials are now realizing a policy aimed at dissolving the peoples of the white European race in the imported very heavy mass of dark-skinned aliens, which, in fact, is the policy of destroying this particular race. More precisely - the height of the sophistication of such a policy: destroy the whole human race under the flag of the fight against racism. As a particular of this sophisticated racist policy, the accusations of racism are honest fighters against this genocide. One of the victims of which was Marine Le Pen.
Once there was a film in Soviet cinemas that I didn't watch, but I always remembered its name: "I know that you know what I know." It is fully suited to the criminal community, functioning under the name of the European Parliament. Whatever they shouted about racism, we still know that the real racists are them. (I will not dwell on the policy of additional annihilation of Europeans by their own governments through LGBT expansion, but this is also pure racism). The ignorance of this policy especially hurts the eye against the background of the colossal efforts and financial expenses that are exercised by the same Parliament for the preservation in Europe of rare species of snails or newts.
Is it time for the European "green" to take up the protection of not only certain types of flora and fauna, but also of human races? Save the diversity of not only the plant and animal worlds, but also the human community? I hope that the man for the "green" is not less important than animals?