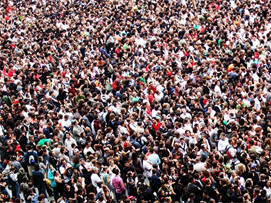 Recently, a Moscow-Delhi video bridge was held on the theme: "East-West: demographic problems. Forecasts and comments." According to a UN demographic study, the world's population will exceed 2025 billion by 8, and 2100 billion by 11. At the same time, in 15 years India will become the leader in terms of population, leaving the current most populous country, China, far behind. There are questions about whether the Earth will cope with such a number of inhabitants? What problems will the population growth bring to the states of the East and the West, the North and the South? The participants of the event, experts from Russia and India, gave their comments on the demographic prospects of the planet and their states, as well as the related challenges.
During the dialogue, the problems of overpopulation and aging of the planet's population, the allocation of resources and the provision of growing economies with energy were discussed. Different opinions were expressed, but experts agreed on one thing: overpopulation of the planet is a problem that is largely contrived. An expert from Russia, Igor Beloborodov, expressed the opinion that the problem of extinction rather than overpopulation faces mankind, and cited data indicating that by 2020, the global birth rate will fall below the generational replacement threshold, and by the end of the century the population decline in the world will be approximately equal to 50 million per year. Also, most experts agreed that, both at this stage and in the foreseeable future, there is no problem of lack of resources - the problem is only in their proper distribution. The fact is that many countries attach serious importance to the issue of their own resource independence and, instead of solving problems together, mankind solves them separately. If this task is successfully accomplished, this will be the most important step towards reducing wars and violence on a global scale.
The Director of the Institute for Demographic Studies, Igor Beloborodov, told the "Tomorrow" correspondent about the demographic processes taking place in Russia and the world and about the fact that we are all waiting for the "Tomorrow" correspondent.
"TOMORROW". When global regulation of demographic processes in the world or in a single country is carried out - is this acceptable from the point of view of universal values?
Igor Beloborodov. Of course, any practice of birth control, population size implies anti-human things - whether it is abortion, sterilization, or the prohibition of marriage. It is no coincidence that even the international definition of genocide, among other things, includes an obstacle to reproduction - this is accepted by the international community, that is, the one who does not allow another person to give birth to the desired number of children, in principle carries out genocide in its most unattractive form, because cannot continue its kind, its future. This is negative both at the micro level - the level of a specific family, and at the level of a single community, society as a whole.
All dictators, mostly supported their own population, as Hitler did: he encouraged Germans with many children, Aryans and stimulated marriages with foreign women among German citizens. But at the same time, he maximally promoted abortion and contraceptive practices in the occupied territories. This is well known. Therefore, any attempts, under any pretexts, to engage in the reduction of the population - this is clearly a demographic fascism. And in the modern world, it is also a form of neo-colonization. Now colonialism has acquired other forms - for example, economic, when countries are not allowed to develop, they dictate conditions, such as "we will give you a loan or let into our markets only if you fulfill our requirements in your country". Or when promoted binding for all decisions that relate to, for example, sex education, containing different types of perversions, age of marriage, the widest access to abortion, the promotion of homosexuality. This is all that today comes from a fairly narrow group of people and that does not fully comply with either traditional ideas or the aspirations of citizens of developing countries, including India, China, Africa, Russia, all of Latin America, that is, the majority of humanity does not accept it. But, nevertheless, there is such a narrow group of people who impose such a demographic agenda. Because, by killing a family, by destroying the "civilization clips" that are family relationships, such a population can be easily managed. Moreover, it will not grow numerically, which means that there is no geopolitical threat, no fear that the country will compete in the future.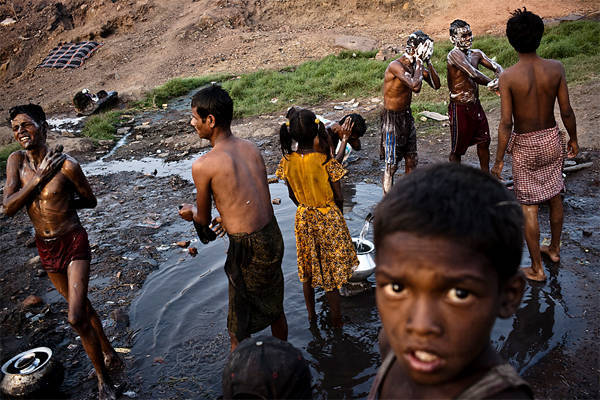 "TOMORROW". That is, the problem is not in the media, but in research centers that deliberately promote distorted ideas about the real situation in the world?
I.B. I would say that this is a problem of political circles, media players who order the necessary research results to pseudo-scientific organizations to promote certain solutions. Right now, Russia is under enormous pressure only because it fulfills the "will of the people" when 88% of our population is unambiguously against homosexuality, its legalization, propaganda - and now it is in this connection that we are under serious pressure. And also from whom! Well, it would be really some kind of models, but when the mayors of various European cities, being themselves homosexuals, impose their point of view on us - this is not even an exchange of opinions, this is an attempt to indicate. But they cannot understand that modern Europe is only economically good, it will last temporarily, because demographic problems will drown it. And morally, in terms of
historical
perspectives, politically - this is the garbage of civilizations. I think that if they do not pay attention to Russia, then they will be forced to do this by Muslims who are unstoppably flowing to Europe and soon there will be Sharia laws there. Soon, all their discussions about the freedom of morals, about homosexuality will be discussed in a completely different tone.
"TOMORROW". Recently, Sobyanin announced that there will be a new policy for illegal migrants. Do you think these statements will become a prologue to concrete actions or is this empty rhetoric?
Ib Can't say for sure. This topic periodically pops up on the eve of the elections, but it is really relevant, topical and reflects the opinion of the people. If we look at criminal statistics, we will understand why the population does not accept foreign cultural migration. It's not even about regulating the existing migration flows - this had to be done a long time ago and we've already been late with this, although we still have to do it anyway. The question now is how to remove the excess mass of migrants from Russian cities.
Because this is a factor in the archaization of the economy: not a single strong economy in the world has grown at the expense of brooms, shovels and other primitive tools. On programmers, it's a fact that entire sectors of the US and German economy are growing, and they import such migrants to themselves.
Someone is inclined to believe that migrants from the CIS countries are close to us, because they are culturally connected with us. With regard to Ukraine, Moldova and Belarus, I can still say this, with some reservations. With regard to Uzbekistan, Tajikistan and Kyrgyzstan, this applies only to Kyrgyzstan and to Russian-speaking residents of Central Asia. The Russian language has not been taught there for a long time, cultural distance is too strong, the population's opposition is too high, and criminal overtones are too high. If in Russia the people from a particular state are leading in terms of crimes related to drug trafficking (90% of cases occur among migrants from Tajikistan), then it is clear that the attitude towards them will be appropriate. If rape, in certain periods, in the capital are the citizens of Uzbekistan, then who would welcome such a migration?
Enormous funds are leaving the country, for the last year - approximately 11 or 12 billion dollars - and this is only legal, through bank transfer systems. If we take into account that taxes were unpaid, that the export of funds took place, among other things, simply in pockets and through illegal banks, that is, it is clear that the economy is bled. This is a corruption factor, because there will be no corruption that is so widespread among the officials responsible for migration issues, among the employees of the Ministry of Internal Affairs, unless there is a pushing factor. After all, clans, communities are very influential, uniting, they are capable of bribing officials, for blackmail. They are trying to gain a foothold as much as possible, to develop ties in government circles, and subsequently this leads to lobbying their interests in power. It may turn out like in France or the USA, when it started with the fact that migrants were allowed in, then they were allowed to stay, then the migrants demanded family reunification, and then they began to say that they wanted their representatives in power. That's what we're going.
This is relevant, by the way, with respect to China, although such a quiet migration is taking place in this direction, but the line is the same. It is just a matter of time.
If Sobyanin's thesis doesn't work, we'll get exactly what you deserve. Because, firstly, the people who lost the ability to reproduce, who hated childbearing, family, motherhood, fatherhood and their own children, do not deserve to live happily ever after - this is not my opinion, this is a historical pattern.
Secondly, since we are not able to resist the migration threat by legal, civilized methods, including exerting the necessary, permissible within the framework of the law, pressure on the government, this means that we are not able to defend our state. A lot of countries defended their sovereignty. Japan lives without any migration, and the leader in the economy, technology, in general, is a model of how to develop positively. Or Israel, in which migration is permissible, but only as the repatriation of the Jews. For this purpose, a special network of agencies around the world has been created, and a separate ministry of absorption has been created.
And in Russia, the doors are actually open, and this openness will lead to what is already observed today in Holland, France, Switzerland, and Germany, where the Germans are already leaving Berlin, freeing up space for other nations. All this is fraught with serious civilizational costs, first of all, the loss of its cultural face and the historical death of the people.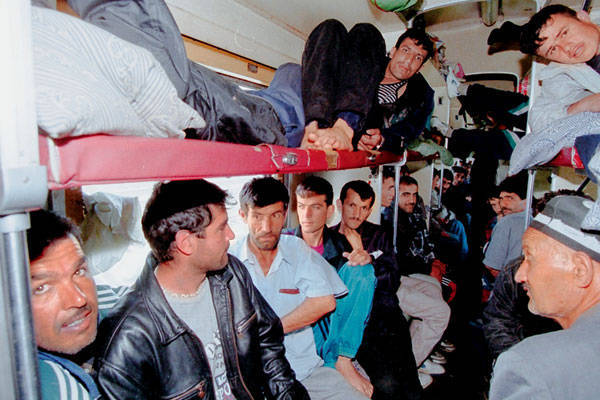 "TOMORROW". As for the migration directly within our country? For example, from the North Caucasus to the cities of the Central region. What are the processes going on here?
Ib About the same thing happens. If you look at polls that even conducted fairly liberal centers for studying public opinion, then we see that the most favorable attitude towards migrants - immigrants from Ukraine, then goes Moldova, unfortunately, with regard to the internal Russian migrants from the North Caucasus, their arrival does not enjoy much approval among Muscovites. There is not much difference between whether a migrant comes, relatively speaking, from Tajikistan or from Dagestan. Why? Yes, we are all citizens of one country, we all have to build and build it, but there are cultural differences, there are critical limits for the allowable resettlement of certain representatives of some Russian regions to others. If today, in some artificial way, to put in Dagestan, for example, 200 thousand inhabitants of the Republic of Tyva or Buryatia, or resettle 300 thousand Tatars there, tension will also arise - this is absolutely inevitable. Not because there are better nations, but there are worse - everyone is equal before God, the law and each other. But there is a cultural distance, and when a critical mass of one or another alien population reaches an alarming mark for the local population, friction begins.
I believe that the regions of the North Caucasus should receive a good impetus for their own development, otherwise we will continue to subsidize them, and young, passionate people will leave their small homeland. It is necessary even for a certain period to close the internal regional borders, and to make sure that the indigenous people participate in the development and prosperity of their region. This, firstly, will soften interethnic tension in Russia itself, between its different but fraternal peoples, and, secondly, it will help the regions to develop economically.
"TOMORROW". And how to do this in practice?
Ib After the unrest, when fans of one of the football teams took to the streets demanding to punish the person who, in their opinion, committed the crime, which was later confirmed, Vladimir Putin said that if it continues like this, we will have to close our cities, Moscow in particular. I think this is absolutely the right question. Now we need to think about how to resettle Moscow and the big cities. The issue of de-urbanization is on the agenda, because we have the main growth zone - Moscow and the region, the entire population is flocking here. Accordingly, entire territories are laid bare, both in the Chinese border region and in the Kaliningrad enclave throughout Russia. This pernicious practice leads to extinction. In addition, any urbanization zone adversely affects the birth rate. In Moscow, the birth rate will always be lower than, for example, in the republics of the North Caucasus, Altai and the Tyva Republic. Therefore, it is necessary to look at the resettlement policy, not to allow the emergence of ethnic settlements, for Russia they are not useful when incoming migrants focus in one place and ethnic isolation occurs. It is important not to allow chaotic influx into growth zones - all of Russia should become a growth zone and a calm zone, including interethnic. This will not be achieved if we continue to condone intensive urbanization — we need to deurbanize our largest country in the world.