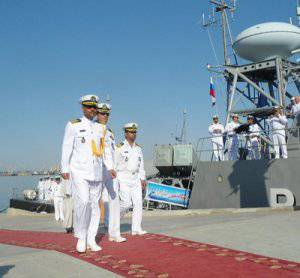 Astrakhan paid an unofficial visit to the detachment of the Navy ships of the Islamic Republic of Iran (Navy of the Islamic Republic of Iran) under the command of Captain 1 of the rank of Muhamadhasan of Azerpeikan as part of the Peykan and Dzhushan missile boats. This entry of the Iranian military ships to the port of our country was the first in the entire
history
Russian-Iranian relations.
At the Caspian Officers House
flotilla
The reception of the command staff of the detachment of Iranian ships was held by the deputy commander of the CF, Captain 1st Rank Nikolai Yakubovsky. Then captain 1st rank Yakubovsky and the commander of the Iranian ships detachment met with representatives of the Russian central and local, as well as Iranian media. Opening the press conference, the deputy commander of the Caspian flotilla noted that the practice of exchanging visits between ships of our countries is aimed at strengthening peace in the Caspian region, further developing good-neighborly relations between Russia and Iran, cooperation between the Russian Navy and the Iranian Navy in the field of ensuring safety of navigation on the Caspian Sea. Captain 1st rank Yakubovsky said that in the second half of this year, fleet ships were scheduled to enter one of the ports of Iran.
In turn, M. Azerpeykan drew the attention of journalists to the fact that the Russian Federation and the Islamic Republic of Iran are still the only states in the Caspian region that bear responsibility for observing the shipping and fishing regime throughout the Caspian Sea. Responding to questions from the Red Star, the captain of the 1 rank, Azerpeykan, noted that the march passed through the middle part of the Caspian Sea strictly from south to north, that the Peykan and Dzhushan boats were built at Iranian shipyards and have excellent navigability.