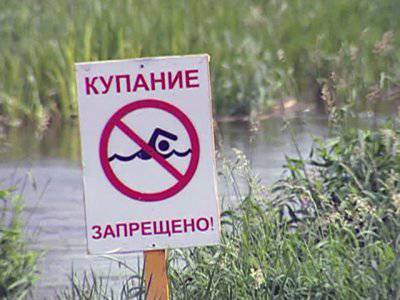 In Zvenigorod near Moscow, a resident of Dagestan Marat Rakhmetov saved two drowning girls, but he himself died. It turned out that Marat did not even know how to swim, but the only one of dozens of holidaymakers rushed to the rescue.
The only thing that Rasim Rakhmetov asked us to do before the interview was to show the sign big - "swimming is prohibited". It is forbidden, because deep, uneven bottom and strong current. Because you can die as his second cousin Marat died. Straight in clothes, he threw himself into the water, hearing the cries of two drowning girls. Miraculously saved schoolgirls, but he could not get out.
"He himself was in the water, I saw his head, he pushed one girl, and then he disappeared, I started to ask for help, shout something," recalls the second cousin of the deceased Marat Rakhmetov Rasim Rakhmetov.
After the tragedy, Yulia Anikyev and Rapsina Korogian learn that Marat did not even know how to swim, even though he lived all his life near the Caspian Sea, in the village of Khapil near Makhachkala. In Moscow region Zvenigorod, he came to work. I thought that only until August. And then the wedding, no work as a plasterer, life in a close construction trailer for four. And, of course, meeting with parents. Besides the son, they had no one.
"We seem to have lost our child. Of course, we made conclusions, talked to girls. We are very grateful to parents that they raised such a son," said Veronika, mother of rescued Yulia Anikieva.
"Was there anyone besides you and my brother on the beach when the girls began to sink?" - in response to a question, Rasim, sighing heavily, says he does not remember. But the girls remember clearly: dozens of vacationers did not even turn in their direction. Though they were only a few meters away.
It was impossible to save a brother, says Rasim. Marat disappeared under water instantly. He was found only after three days. Almost a kilometer from the place where the tragedy occurred. They were also looking for friends from local construction sites, divers, and just residents of the city.
Rasim Rakhmetov: "He was 24 of the year. He always greeted everyone on the street, he never did anything evil to anyone and was a very open person."
The fact that Marat is posthumously awarded the medal "For the rescue of the drowning", the parents of Julia Anikieva and Rapsima Korogian have no doubt. The city administration has already begun to collect documents for this. But, they say, the excitement causes another - in the dangerous part of the Moscow River continue to bathe, and the prohibitive sign still does not seem to notice.