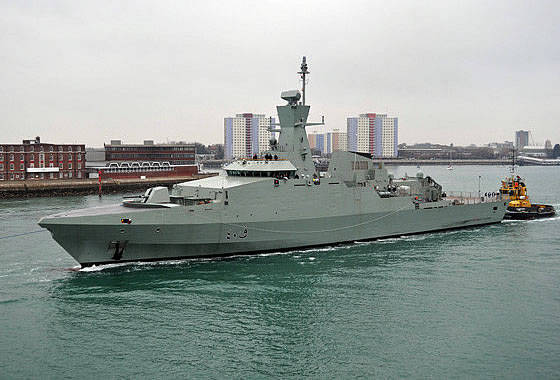 The head corvette "Al Shamikh" of the project "Carif", built by "BAE Systems" for the Oman Navy, was handed over to the customer during the "preliminary acceptance" ceremony held at the Portsmouth naval base.
The main purpose of the new corvette is to fight surface ships and enemy air attack weapons, patrol territorial waters and the exclusive economic zone, participate in international missions, conduct reconnaissance, conduct search and rescue operations, and provide assistance to those in distress.
A contract worth about 400 million pounds for the supply of the Omani Navy to three 2600-ton ships was signed with VT Shipbuilding in January 2007. In July 2008, the order was transferred to BVT Survey Fleet (a joint venture of VT Group and BAe Systems), which became the property of BA Systems in the beginning of 2009.
Three corvettes "Karif" was planned to be transferred to Oman
the fleet
with a six-month interval starting in 2010, but in 2009 the delivery schedule was revised due to problems encountered in the transition from design to production. The delay in the delivery project led to an increase in its cost by 160 million pounds (251 million dollars).
The construction of the head corvette "Al Shamih" began in October 2007 of the year. In July 2009, the corvette was launched.
The second corvette of the Al Rahmani series was launched in July 2010. His transfer of the Oman Navy will be implemented before the end of this year. The baptism ceremony of the third corvette "Al Razih" was held in June 2011. It is planned that it will be transferred to the customer in 2014 year.
Currently, the crew of "Al Shamih" is undergoing a five-week training in the UK. After its completion, the corvette will leave the country and go to Oman.
The final acceptance of the ship will take place in 2014 year after completion of tests in hot climates in Oman, where the corvette must demonstrate the ability to perform tasks for the purpose at temperatures over 45 hail. WITH.