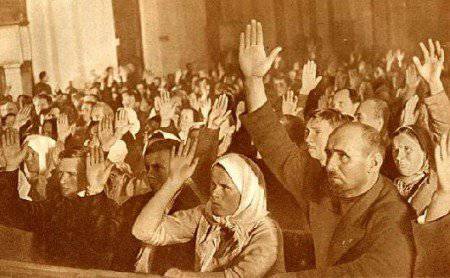 Interview Nikolai Starikov resource Topdialog.ru
Nikolai Viktorovich, at the June ONF congress you said that it was necessary to work out a new popular ideology — an ideology of love for one's country. How will Russians explain how their homeland begins?
There are things that are natural for a person, like love for their mother, love for their homeland. These are things of the same order, it is inherent in man initially. It is impossible to teach him to love the Motherland, but he can be taught not to love her. It can be knocked from the path to which it is intended by birth. Here it can be done. Strictly speaking, this is what liberal propaganda is doing, not only in Russia, but throughout the world. A person is inspired to disrespect
stories
, a person is told that our history is a chain of continuous mistakes, crimes, misunderstandings, which Russia only did, that it fought, seized other countries. In short, form a negative image of the country.
At the same time, you can lie, slander, pull out exclusively negative moments, distort facts and tell bad things about only one person, not to say anything about the rest - you get the impression that only this person, only this country, is bad.
What is actually happening on the world stage? Russia is a unique state and civilizational entity. And in our history there were difficult periods, and in the history of other states there were periods no less complex, no less bloody. But we are told only the negative and only about us. And about all the others, it's positive, so it seems that when Ivan the Terrible was here to restore order in the country, it means that democracy reigned in all other countries and there were "free elections". There was nothing like that. There were Varfolomeevsky nights. The Huguenots slaughtered Catholics, and the Indians were massacred by hundreds of thousands. And the slave trade flourished when people were caught in Africa. Packs of sharks floated behind these "free" caravans of democratic British slavers, who were waiting for the next deceased slave to be thrown overboard. All this was.
Work on the formation of a negative attitude towards our country is being deliberately conducted, it is simply invisible. And now, to stop this work, to push the liberal ideology into the margins of public opinion, this is the main task.
In Vladimir Solovyov's philosophy there is a division into maternal love — unconditional, absolute, and fatherly — which is based on the child's successes and achievements. Do you think love for the motherland is the love of a father or mother?
I disagree with him. As a father of two daughters, I cannot say that I love them differently, less than my wife, their mother loves them. Homeland must love unconditionally, because it is given to you from above. You were born in this country, you grew up in this country, and the country and your parents did the maximum so that you become a worthy, intelligent, beautiful, well-bred person. Exposing some of the conditions of your love is the very egoism to which liberalism pushes us.
Motherland must be loved simply for what it is, and be proud of the centuries-long history of victories and accomplishments that were. Then we must fight to ensure that today's reality, especially tomorrow, gives us a new reason for pride. But if something is wrong in the country, this is a reason to change the situation, and not a reason to say that I need a new homeland.
And yet, what can be proud of our country today?
By the fact that over the decades of liberal propaganda, we were able to maintain our main difference from the west - the pursuit of justice, humanity, and the very love for the Motherland, which we have so carefully tried and tried to erase from us.
We have a great country, we have a great future. Those geopolitical defeats that we experienced are temporary. But they risk becoming permanent if we do nothing. We see that Russia 2000 of the year and Russia 2013 of the year in the international arena have completely different weight. Without us, today's international issues are not being resolved. So we are moving in the right direction. As for internal problems, there are naturally a lot of them, and they remain. But these are problems of a slightly different level than those faced by the majority of our population in the middle of the 90s.
Material wealth has increased in many ways, so the problems of the spiritual order come to the fore today. Patriotism - about which few people spoke in 90's. The question before was one - what will tomorrow be prepared for your children for breakfast? Today, this question is still facing many of our compatriots, and they need help. But many more people think about the problems of spiritual choice. This is also evidence that we are moving in the right direction.
Calling yourself a patriot and doing business in another country is false patriotism?
Of course, you need to support domestic producers. Especially in areas where a foreign product is no better. For example, how is New Zealand oil better than Vologda? Vologda is better, and it is ours. In such a situation, it seems to me, the patriot is simply obliged to choose a Russian product. But in the field of, for example, automobile production, the samples of domestic automotive equipment do not yet reach the highest international standards, so everyone can make their own choice.
As for doing business abroad, this is again a special case. You can do business anywhere. It is important to love your country, it is important that children study in our country, as a last resort, abroad, but it is imperative that they return to apply their knowledge at home. As for my children, they studied, study and will study only in Russia. I think that's right. But I can't say that none of today's young people study abroad. Here everyone decides for himself. Do business where you want, but pay taxes, and understand that Russia is your homeland and the place of life of your children, and not just some kind of training ground for making money.
A single history textbook for secondary schools, which is planned to be developed by the end of this year, is one of the measures to raise patriotic feelings?
This is a newly built destroyed foundation of the building. In the Soviet Union, the Russian Empire, in today's USA and Western Europe there is and was a single history textbook. It may be in different covers, with different names and under the names of different authors, but, in fact, it is the same.
In the US, there is no alternative point of view on past events of history. No one in the United States advocates that dropping two atomic bombs on Japan was a war crime, and was not caused by any military necessity. Such a point of view somewhere on the Internet may be present, but you will not find this point of view in any textbook. On the contrary, in dozens of textbooks you will read that it was necessary to reduce the casualties, speed up the process of surrendering Japan, and so on. But this is a lie.
Since the beginning of this year, two domestic films about the heroes of the Soviet past - Legend No. XXUMX and Gagarin have appeared on movie screens. The first in space. Pictures received a lot of positive feedback from the audience, the box office is huge. Does this mean that we are now in dire need of such heroes as hockey player Valery Kharlamov, cosmonaut Yuri Gagarin — heroes of real ones, not made by PR-technologies?
My favorite sport is hockey, so I naturally watched the Kharlamov film. Great movie! "Gagarin" has not yet seen.
We have always been told that bed scenes, corpses and blood are inserted into films, because without this no one will watch them: people are bored and uninteresting. The recent successes of our cinema completely refute this false thesis. There is not a single corpse in the film about Kharlamov. No explicit bed scenes there either. And, nevertheless, everyone likes the film, the film provoked enthusiastic responses.
They can only have negative heroes. Here are the heroes of American militants? This is either fictional characters with supernatural abilities that protect people from someone there. In America, all the characters invented. Who else are the heroes? Bank robbers, murderers, prostitutes - you will not find a single normal person in the heroes there. Well, in a pinch, this is a policeman who violates the law.
Watch Western series, which are so smoothly pumped into domestic series: no one works there. They do not understand what they do day and night: sit in restaurants, drive expensive cars - but do not work. Accordingly, a certain matrix of behavior is being created and projected that it seems to work as indecent to work, but at the same time it is necessary to have the degree of wealth that appears only after long hard work. A gap is created - no one wants to work, but wants to have everything.
Well, limit the display or ban such films?
I think you need to use the best international experience. In particular, in France a certain percentage of films must be locally produced. But here two processes should go in parallel.
First, there must be films of good quality, in order to have something to show. Because only the films of the Soviet period of today's young viewer do not satisfy. We need to create new heroes, new films. And, little by little, force out the western ones, by some smooth measures. Including, maybe, such as in France. We are now on the leading TV channels do not already see the Western series - there are only domestic series. But here is the question of the quality of these series.
Often express the opinion that the truly great domestic films are either made in the USSR, or made about the USSR. Do you agree with that?
I agree that in 20 years nothing has been offered that one could be proud of. Since the most interesting films before Kharlamov and Gagarin re-told us the stories and films made in the Soviet Union - that is, the old stories in a new way, while nothing new was created. The absence, this vacuum of positive ideas, goodies is felt. Sensing this, cinematographers now began to make perfectly correct films.

Are we going to live in nostalgia for the Union for a long time?
We live in nostalgia for the greatness that was in the Soviet Union and the Russian Empire. That is why the patriotic spectrum can be divided into two large parts - these are big patriots of the Soviet Union and big patriots of the Russian Empire. These two patriotic spectra should eventually unite in order to reconnect the artificially broken continuity of the Russian Empire and the Soviet Union and move on.
Let's talk about the West. The United States recently stirred up a wiretapping scandal - and people began to massively buy Orwell's dystopian novel 1984, warning of the threat of totalitarianism. What is this fear?
No, this is a definite epiphany. Just once we were told that Orwell wrote about the Soviet Union. Orwell actually wrote about the West. The famous slogan "War is peace" is what we see now, for example, in the Middle East, when we are told about democracy in the world, while bombing Libya and going to bomb Syria.
Another thing is that our writers of the Soviet period also wrote their books about Western civilization - I mean the Strugatsky brothers. One of the episodes of the film "Inhabited Island" tells us that there are some emitters that convey certain ideas and moods to the public. When they are turned off, people change. So this is today's Western media, which create certain moods in almost all of the Western world.
But it was all true. Take the posters of the Soviet period - it says about the struggle of the Arab people for independence. Everything seems to be today: absolutely relevant. This tells us that nothing changes in politics. And the West, having no ideological confrontation of the Soviet Union, not having any armed force that would be equal to it today, openly begins to model its own platform, destroying all dissent, and in fact turning into a totalitarian democratic regime. Because to speak today about pluralism in the West is somehow ridiculous.
But in Russia?
And in Russia, it is democracy in the sense in which its democrats understand. They can express their point of view, we see them on TV, we hear them on the radio - everything is present. Here the liberal ideology is actually present along with the ideology of patriotism. And, unfortunately, this liberal ideology still dominates.
What will happen to the West next? Will it become even more like the world described by Orwell?
Of course, yes, because if they embarked on a certain path, then it is very difficult for them to turn off. Otherwise, they will have to admit that over the centuries they lied to their own people, and then
everything will collapse.
Does the totalitarian Orwellian "plague" of Russia threaten?
We never had totalitarianism. We had a certain social system - exactly the same as the social system in the West. He had his own characteristics, but the question of the predominance of a certain
ideology, a certain ideological line was decided in the same way as in the West. There was no difference.
And the talk about what was here crushed, strangled, poisoned, and there everything blossomed, crumble completely, if you look at today's West. If everything was so free and democratic there, then why is there only one point of view today? Why did the collapse of alternative points of view, the dismantling of this beautiful facade, occur after the collapse of the Soviet Union, and we see today only one point of view that is being imposed all the time? What kind of pluralism can we talk about when there is only one - well, now two, - reserve currencies? What kind of democracy is there? What kind of multipolarity is there?