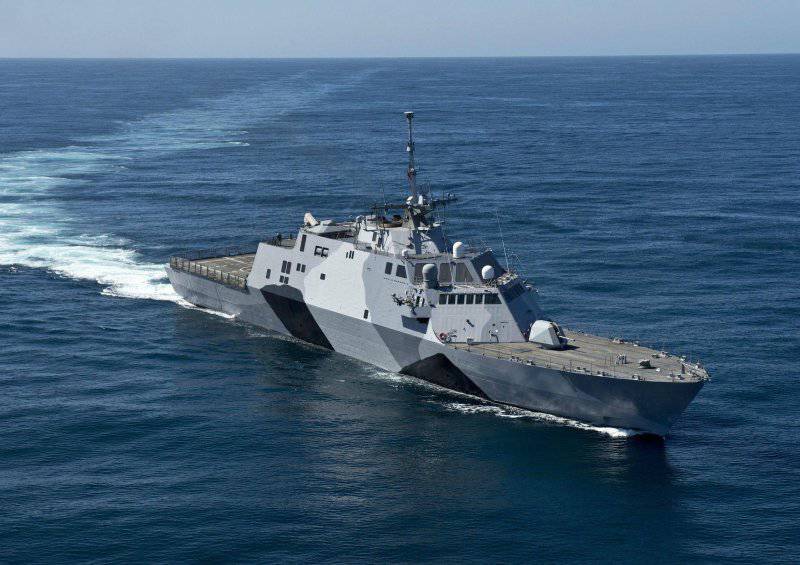 The US Navy has completed tests to assess the reliability of a remote-controlled mine-finding system RMS (remote minehunting system) of a coastal zone combat vehicle of the LCS type (littoral combat ship). In total, for the 4-month period, 47 tasks for mine detection with a total duration of over 850 hours were worked out. Testing took place off the coast of Florida in the Palm Beach area, where the technical center of Lockheed Martin (Riviera Beach) is located. The test was attended by seafarers from the mine action support unit of the coastal battleship battalion who provided technical maintenance of the RMS system and its application, as well as engineers from the US Navy surface fighting center of the division in Panama City, ensuring the entire testing process.
In accordance with the obtained results, which fully satisfied both the developer of the mine detection system and its customer, the Navy will now move on to the next test stage at the pilot design stage (R & D) for the creation of an anti-mine complex for LCS ships.
The remote-controlled mine-detection system RMS consists of a semi-submerged multi-purpose remotely-controlled vehicle (RMMV) (remote multi-mission vehicle), which has a sonar station (GUS) for mine detection with a variable depth of immersion AN / AQS-20A, which is designed to detect, classify, identify locations of bottom and anchor mines in coastal or deep waters.
The RMMV semi-submersible robot is a semi-autonomous, unobtrusive, uninhabited device with a diesel installation, operating from the board of the LCS and serviced on board. The AN / AQS-20A mine detection system has five separate gas / sensors located in a compact, lightweight and hydrodynamically stable towed container. The AN / AQS-20A HAS determines the location of min-like objects and provides the operator of the complex with a visual image and data on these objects.
The RMS system will provide the Navy with the ability to locate ships and personnel outside minefields. This system will be deployed from LCS ships as one of the means of a mine action complex being developed for them.