On the anniversary of June 22, our Euro-historians ask "a simple question": "... was not Stalin himself preparing for an attack on Hitler?" So, with "simple questions", they begin to put on the same level Stalin and Hitler. it
historical
The "discovery" was made recently in Europe, and, as we see, it is already being promoted to Russia.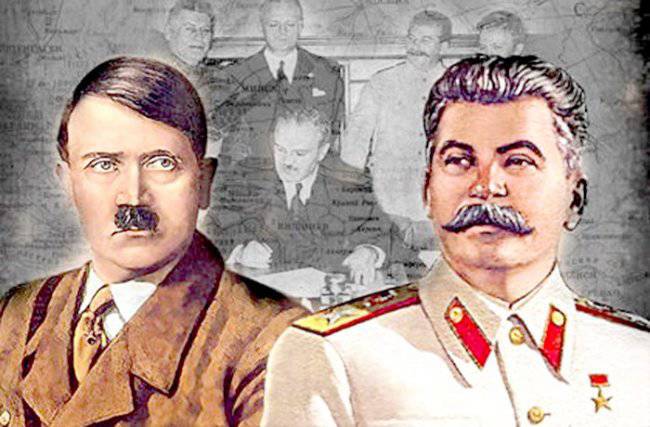 Comparative construction: although "Hitler attacked," Stalin was probably "preparing to attack," putting them on an equal footing, both logically and lexically. Such an understanding of the Second World War by Europe invades our historical consciousness, as Hitler once invaded, suddenly and without a declaration of war.
And looting begins on our history already on the territory of Russia, a perverted view on the course of the Great Patriotic War is imposed. Marauders forget to answer another "simple question": what was the international situation before the Second World War?
Recall that England and France are colonial empires: democracy in the metropolitan area is complemented by colonial plunder; in the USA, open discrimination of the Negro population, Latin America is declared its "backyard", and the "politics of gunboats" is applied to it.
By the 1941, France was already defeated, Germany was leading an "air war" with England, shutting it up on the islands, and it had a strategic initiative. The United States has the status of "non-military ally" of England. Japan waits in the Far East. The war between Germany and the USSR is inevitable: in Europe, no one but them is left. The question is only in the timing and how Hitler will "squeeze" England?
Today's strategists reasoning about the "friendship of dictators" strangely forget that the hatred of fascist Germany to the USSR was explained not only by its anti-communist ideology, but also by the ideology of racial superiority, that one of the "dictators" considered himself a superman and his counterpart a "subhuman".
But if war is inevitable, then what is the reasoning of the "Rezun-Suvorovs" about a good "defensive" and bad "offensive" war? Nothing, if only they do not want to cast doubt on the very fact of the aggression of fascist Germany. For this they make a new "discovery": Stalin was preparing for an offensive war! But any preparation for war can, if desired, be declared preparation for both defense and attack: a purely defensive strategy is always fraught with defeat, for you can only win by advancing.
Yes, Stalin was preparing for war, and there is no discovery in this: and in the pre-war songs it was sung that the Red Army men would beat the enemy on its own territory. And there is no crime in this, but there is common sense. Under such conditions, any head of state must prepare for a war that includes offensive actions. Critics of Stalin seem to have forgotten about the "Mein Kampf," the fascist bible, which, by the way, is in itself a sufficient basis for an offensive war.
If war is inevitable, then what's bad even in the first blow to the enemy? Nothing, if not violated the customs of war, did not violate the peace treaty, that is, did not commit an oath to crime. Peoples have been fighting for a long time, and customs of war have developed. That is, it is necessary to denounce a peace treaty, if it exists, and you can present an ultimatum, declare war - and "come on you!"
Hitler committed precisely oath crime, without denouncing the peace treaty with the USSR, and then attacked without declaring war, which was stated in the TASS statement: "About the perfidious (with a peace treaty) and without declaring war" attack by fascist Germany. Thus, the criminality of the attack of Hitler is in violation of the peace treaty and perfidy, and the "possible attack" of Stalin, but with the denunciation of the peace treaty and the declaration of war, would be a completely legitimate first blow.
We pose the question differently: did Stalin have a plan for a perfidious, without a declaration of war, an attack on Germany, similar to Hitler's? On this occasion there is not a single document, not a single certificate. But there are words of Stalin himself that the USSR intends to take seriously the peace treaty with Germany, told by him to Ribbentrop. Therefore, no comparison of the "possible" attack of Stalin with Hitler's perfidious attack of 22 Jun - in general can not be, and there is no such board on which Stalin and Hitler could be put.
Recall the diplomatic context - what was the price of the non-aggression peace treaties in that historical period? In 1938, England and France in Munich betrayed Czechoslovakia, then quite faithlessly did not fulfill the contract on guarantees of its borders (they did not terminate them beforehand). Both England and France had non-aggression pacts with Hitler. In the 1939 year after Hitler's attack on Poland, the Anglo-French allies betrayed Poland, "fulfilling" the treaty obligations with it by Strange War, without military action with Hitler. Today they explain their betrayal by the "policy of appeasement," and this is the same false fig leaf as their Strange War with Hitler. In principle, these are all the same oaths as the Hitler 22 of June, the European trend of the time.
With such a diplomatic background, could Stalin consider a non-aggression pact with Germany (Molotov-Ribbentrop) as a guarantee for his entire 10-year period? Of course not. But he seemed to think that even a formality would be observed by Hitler - a peace treaty was declared or a war was declared, as in the case of Poland. It was in this that Stalin was wrong, so he seemed to wait and hesitated, hoping that the military action on the morning of June 22 was a provocation, and you can extend the peaceful respite given by the Molotov-Ribbentrop Pact to re-equip the country.
We have to remember well that 22 June 1941 was not a declaration of war that wars can start treacherously, but for some reason Europe today wants to make it forgetful.