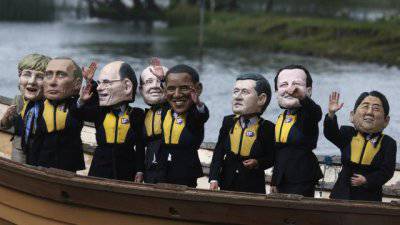 This is probably the main outcome of the G-8 summit, which took place on the green fields of Northern Ireland in the UK. The statement on Syria will be signed by G-7, and Russia "may not sign it," Western observers are doing a good bad game with a bad game. This is a great human thanks, this is a vivid example that in reality there is no G8, but there is the West and Russia, and this is the end of the inhabited world.
The formal outcome of the summit: the resolution "to encourage the parties to the Syrian conflict to sit down at the negotiating table" - translated from diplomatic to human means that Russia not only did not surrender Syria, but also promised major troubles to its "Western friends" if they decide to pacify Syria " no-fly zone ".
Deputy Foreign Minister Lukashevich explained to those who are completely incomprehensible: Russia will not allow introducing a no-fly zone over Syria and even "humanitarian corridors" to support the militants.
Judging by Vladimir Vladimirovich's gloomy physiognomy at the meeting with Obama, who was smiling at a glossy face, it was noticeable on the TV screen, he said something like this: we don't need such a game in Syria. Obama had to joke that he was playing basketball worse than Putin in judo.
World media have concluded: "Moscow supports its old ally, Bashar Assad," and, as always, they told a lie in the form of a half-truth. Moscow supports itself in Syria first of all, and this is understood by all who are not zombies.
The last stroke on the Syrian canvas was inflicted by Turkish Prime Minister Erdogan: he lamented the betrayal of Turkey by those whom he considered to be friends during recent Turkish environmental events. "How insincere can they be!" Erdogan exclaimed, and what follows from this? The real patriot of America, Edward Snowden, helped to understand this very appropriately: "They can be anyone to be considered an intruder." And not only an individual, but also a separate country, yesterday's friend and ally. Political business, you know ...
It would be logical if Turkey, after such a betrayal of its "Western friends," closed its borders to the militants they supported, that would be a good basketball lesson for Obama: do not dig a hole for others!