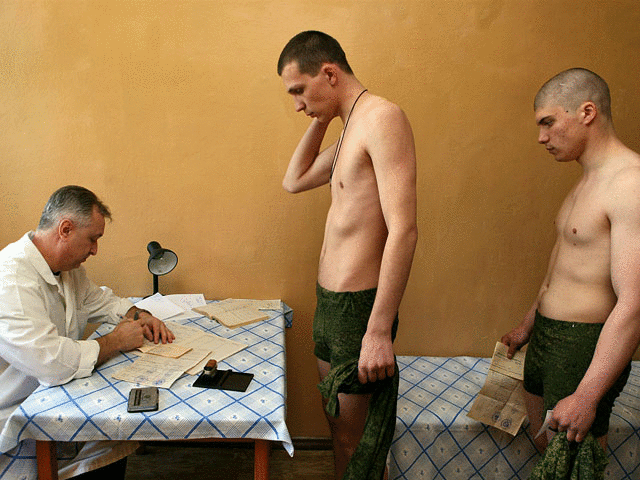 The Russian government has been invited to consider a new provision on military medical expertise on the elimination of young people entering the army. If the standard is adopted, it will become even more difficult to "deviate" from the army with the help of some diagnoses.
This provision implies the mitigation of individual requirements for hearing and vision impairment that can be corrected. Due to this situation, with the highly changed nature of the service lately, many "work differently from 10 years ago." "For example, modern methods of correction of visual impairment to minus two allow the soldier to work at a computer, to do the work of a programmer," ITAR-TASS quoted the chief physician of the Russian Defense Ministry, Major-General Alexander Fisun.
At the same time, the Ministry of Defense is seeking to tighten the requirements for both recruits and contract servicemen for mental disorders and heart diseases. "This rigidity is due to the fact that there are no deaths from similar relapses and other incidents in the army," the official said. The amendments are designed to protect the army not only from sudden deaths, but also from suicides and other unforeseen situations.
Now the provision of military medical expertise is pending in the government. The proposals were made not only by the Ministry of Defense, but also by the Ministry of Internal Affairs and other security agencies. Apply the position will be in those security agencies, where temporary service is provided. Fisun noted that the project went through almost all the agreements with the security agencies and the Ministry of Health, now "the last discussions are underway." "It will take a month, I think, and the situation will be introduced somewhere in the fall," RIA quotes the physician.
News
".
In which case medical companies will come to the aid of the soldiers.
By 2014, fifty medical companies will be created, capable of providing both first aid and special care. "These units are a new structure in our Armed Forces, which presupposes new standards of medical support for military personnel. We see prospects for the development of individual medical service teams. They are equipped with modern equipment and can be transferred to a given battle area in the shortest possible time," said Fisun.
Medical companies will be created within the framework of the concept of special mobile teams. 22 such brigades will be located on the territory of the base military hospitals, where there are helicopter and aircraft platforms (more than two dozen helicopter platforms have been created at the Defense Ministry hospitals). The air transport will be equipped with special stretcher modules and other medical equipment. Soon, the field dental complex, which was presented in Moscow at the international exhibition "Integrated Safety-2013", will arrive in the army in May.