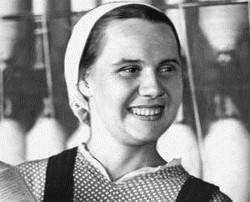 In the 1958 year, the 26-year spinner of the Vyshnevolotsky cotton mill, Valentina Gaganova, moved to the lagging brigade and led her to the front lines. A year later, she was already awarded the title Hero of Socialist Labor.
After that, she repeated her initiative three times. Using her experience, authority and ability to work with people, she competently and in a new way organized work in a brigade and in a short time brought it to the front lines. Initiative Gaganova liked textile workers. Many have followed her example: first at their factory, then at the plant, at the enterprises of Vyshny Volochyok and the whole Upper Volga region — the initiative to transfer the advanced workers to lagging areas to raise them to the level of advanced ones.
Gaganova became a symbol of her time, as well as Gagarin. However, they were friends in life. As with other astronauts - Titov, Komarov, Leonov. She was loved for her good temper and open character. Andrei Dementiev dedicated poems to her, Joseph Kobzon - songs. Khrushchev, Kosygin, Brezhnev, Ryzhkov, Gorbachev knew her face, young Yeltsin gave her expensive gifts ...
Alas, in Valentina Ivanovna's 2010, he was gone.
And at the beginning of 2000's, I went to her in Vyshny Volochyok. She lived in the same apartment on the top floor of an old three-story house that Gagarin had been in.
She remembered how he reproached her: "The taps are flowing, the door to the bathroom is not closing ... Is this how heroes should live? So that by the next arrival I will fix everything. "
But another arrival did not happen. And at that time, when I appeared in that apartment, the roof of the house was leaking, because the ceilings in Gaganova's apartment were completely black. Opposite its windows, a commercial camp set up its tents, and in the evenings sellers burned garbage in iron bins, and acrid smoke from these fireplaces filled the apartment, forcing the windows to close more tightly. Closer to the night, the merchants began a big beat. Remedies usually ran into their porch.
"You will complain, they say to the police, make a metal door. And who to do? Some pensioners are in the house, "Valentina Ivanovna complained. She, too, had a pension that was barely enough to live on, because until recently, in the New Russia, the Heroes of Labor were sort of outlawed. Relic of the socialist past.
At that time she was often sick. Moreover, to the physical sores were added mental. Her only son, Sergey, was on several occasions in Chechnya as part of the joint police squad of the Tver Region. The detachment participated in the battles, suffered losses. What cost those business trips to Valentina Ivanovna - only mothers of sons who fought in hot spots know. She did not accept her soul and the new way of life.
Once she was invited to the factory. Came, looked.
On the one hand, the working man was not only pushed into the background, he was not allowed to work at all. And on the other ... She asked: "Would you agree to work for free, how are we?" - "No, Valentina Ivanovna." Which of them heroes grow up?
"We fought for every person, even for felons. And now they don't even take these to work. Once I watched on TV, as the juvenile criminals were released under an amnesty, and no one came for them, and cried. After school, children came to the factory, consider, children, and it was necessary with them as with children - where to scold, and where to stroke on the head. Who wanted to learn, did not keep - helped, arranged. If the boy went to another shop, ask the boss: "How is our Savelyev?" - "Nothing, it works ...". And you will meet the most: "How, son, do you like it?" - "Like". - "Well, thank God". We knew each of our workers where and how he lives. But the current owners of human destiny do not care. Everyone feels like a temporary worker, lives today. "
... She believed that everything in life is obliged to mother.
- I remember a neighbor came: give me money in debt. Oh, I say, I probably do not. And mother: "How is it not? You, in my opinion, never live to the last penny. " I show her the wallet: six rubles left. "Go and give three rubles to her." My mother was subordinate until her death. He used to say: "It's said on the radio that the party raised you, Komsomol. I brought you up. Who taught you to work, eh? ". How to start, how to start. But what's true is true. At three o'clock at night, she and her father went to mow, and Valenka had to milk the cow and feed her at five o'clock with the sheep in the field. In 7 years, I already did everything around the house and in the field. During the war and after the war, the bulls plowed. Mom said: "We must work, my daughter, without the labors of the righteous you can not make a stone chamber."
"Stone Chambers" she never made herself, although it is difficult to believe from the outside. Even in Vyshny Volochyok, where practically everyone knows each other how a new house will be built in the city, they say: this is for Gaganova.
And Gaganova was a hero atypical neither by the standards of this century, nor by the standards of the past. Yes, thanks to her, many social objects, residential buildings, dormitories were built in Vyshny Volochyok, but never personal interests were woven into public ones.
"Somehow I give Kosygin's deputy a piece of paper with requests — we then changed the knitting machines at the factory, the looms, and at the same time I ask for the director a new car. He says: "Do you have a car?" - "No". "Well, does the director even carry you?" - "Carries, carries" - I lied. And at least once I asked myself. "
And when the plant was privatized, it did not get a single share. Then the new mistress came to her senses, gave a piece of paper on 50 shares, and after a while regretted it. "Come on," he says, "we'll give you better 600 rubles for them for them."
Gaganova could not stand it, she lost her temper: "Ninka, you worked for me in the brigade. And do not be ashamed to offer you this? Yes, I better tear them.
Gagarin once asked her: "Do you know about us chastooshkas sing:" Who lives well in Russia? Gagarin, Gaganova, Titov, Brezhnev, and the rest as before. " She replied: "Well, well, let them sing." She had nothing to reproach herself with. Even when the old social order collapsed, and many former social labor heroes and party leaders, like marauders, rushed to raise their capital on its ruins, she stood aside from this bacchanalia and only repeated: "Guys, and yet death has no pockets. You won't take anything with you: neither money, nor mansions ... ". Now sometimes she will doubt: maybe she should have been like that, she would not have remained sick and impoverished under old age, but then she remembered - not with her character. Once I wanted to ask Kobzon money for medicines from an old friend, but I could not.
We had several meetings with her. She did not let me into the hotel, left me to spend the night at home, treated me to cakes. And she told, she told.
"The workers say to me:" You were like Valentina Ivanovna for us, and you will remain that way ". "No," I answer, "I'm not the same anymore. I already became evil to remember. Insults are bad to endure, especially if they are undeserved. "
... Nobody urged her to lift a lagging brigade. Gaganova at that time was the secretary of the Komsomol organization of the shop, and helped the brigade as a social burden, since she worked alongside. "Then I think: Lord, why did I hesitate so much that it would be better for me to work there myself". And passed.
So just that one was born
historical
initiative.
Eternal memory to you, Valentina Ivanovna!