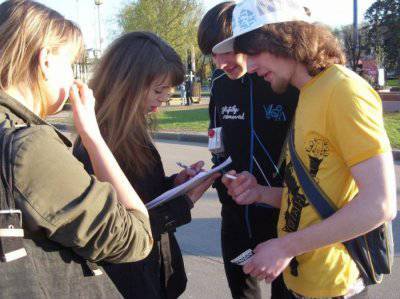 12 June, the country once again celebrated the holiday, which has recently become known as the Day of Russia. From the title, as you know, the word "independence" disappeared, since it clearly gave rise to heated debates: independence from whom - from the former fraternal republics or from common sense in general? ..
Whatever it was, but the new name sounds much more neutral and much less defiant. However, the attitude of Russians to this holiday, which since 1991 of the year is still a non-working day, is still far from clear. The reason for such ambiguity, most likely, lies at all not even in the fact that some are more patriotic, others less so; the reason for the ambiguity lies in the date that is associated with the holiday itself. And this date, no matter how cool, but brings to the position of the collapse of the Soviet Union, which (collapse) itself became a real shock for the majority of the inhabitants of our country. Of course, time has healed many wounds, but not every modern citizen of Russia can afford to forgive the collapse of a huge state for the cause of this collapse.
And if the date of June 12 leads to reflections on the fate of the USSR, then willy-nilly people begin to compare what happened to our country before gaining so-called independence and what became of the country after. In order for these comparisons to take on, let's say, carnal outlines, on the eve of the holiday, VTsIOM conducted a sociological survey that bore the saying "Day of Russia: with which and whom can we be proud of?" It was about new achievements and new heroes ("heroes" - in a wide sense of the word) country.
We present some of the results of this survey.
An event that causes a sense of pride among Russians was the acquisition of the right to host the Olympics in Sochi (7% of respondents). In 6%, prizes of Russian athletes (including Paralympians) cause a sense of pride. Also 6% are proud of the rise of the Russian economy and the rise in the standard of living of Russians. Judging by the results of the survey, 3% of Russians are proud of the revival of the army. It is noteworthy that almost 42% of respondents said that there are no recent events to be proud of in Russia.
There was another question in the VTsIOM survey. He was concerned with the presence or absence in modern Russia of individuals to be proud of. Vladimir Putin scored 9% of votes, Sergey Shoigu 6%, and 6% of respondents called veterans of the Great Patriotic War. "There are none," said 24% of respondents, and 33% found it difficult to answer at all.
Of course, one can be ironic for a long time over the fact that Putin along with Shoigu are proud of 2,5 times more Russians than veterans of the Great Patriotic War, but one should understand that a sociological survey on the street is a specific thing. If they unexpectedly approached people with a dictaphone or a notepad and asked a question, what is called, on the forehead, then not everyone will quickly orient themselves. Here the banal information promotion of a person comes out on top. That is why people, whom by definition the whole country should be proud of (it is, of course, about veterans), have remained only with 6%, although this does not detract from their role in the life of the country.
But if each of us puts himself in the place of those polled by VTsIOM, then we can call that one of the events and which of the people who are alive today are causing pride. Flights to space for us had time to turn into a routine, and, to be honest, not every space launch is successful. Unfortunately, there are no new Gagarins, just like the new Korolevs, the new Valerians of the Kharlamovs, the Vladimirov Vysotskys or the Mikhail Sholokhovs. Although there are new cosmonauts, and engineers, and hockey players, and actors, and writers. But in order to declare one of them to be the real pride of Russia, for some reason, there is not enough, perhaps, an emotional surge. There are seemingly real boulders: Nobel Prize winner Zhores Alferov, human legend Mikhail Kalashnikov, the greatest actor Alexei Batalov and many others. Only these people are completely geniuses brought up by a great era. All of them - the great seed of a great country called the USSR. And what about the modern characters? You want to give the name of a good hockey player, but then you remember that he has not lived 5 for years, and in Russia. If for someone it is a reason for pride, then there is nothing to say. I would like to call the pride of the modern writer, but with options, too, everything is not in order ... You can read, but to be proud - this is unlikely ...
So, it turns out, in the country of heroic personalities, there is no one at all? Yes, there are such people, only today it has become unacceptable to talk about them. We are accustomed to show business, and even in politics. Serve, you know, the show and that's it! But can one not be proud of a man who saves thousands of lives in operating theaters every year, unless one can admire a professional who literally every day brings burning people alive and unharmed to panic-ridden people, isn't there any reason to be proud of those who regularly stand up for combat duty and stand on guard the security of the country. Yes, of course, these people are not trying to bring their work to the level of the show, they just do it, and do it professionally - without grumbling and, excuse me, long green snot. But in the current consumption system, pride in such people is a real moveton. Like, something else - to be proud of the farmers or metallurgists - because if anything, you can bring bread with steel through China. And the fact that our society (that is, you and I) became sick with consumer obsession is a fact. This is our gift for "independence" - a gift from democratic "partners".
We are considering a poll organized by VTsIOM, and in fact there is also a last-year poll from Levada Center. To trust him or not is the business of each reader individually, but it is impossible not to pay attention to him. According to the results of that survey (conducted on the eve of the Day of Russia 2012), only three-quarters of Russians are proud that they are citizens of the Russian Federation ... And here we are talking about pride in professional doctors or firefighters ... It turns out that every fourth in our country doesn't perceive his citizenship except as a heavy cross. Why? Because the psychology of consumption dictates its own rules: the employee has a car that is more expensive, the McDonald's classmate is closer, the neighbor's hair dye is more stable, and the neighbor works from above in Germany, and there you can see the gay parade - that's lucky lucky ...
And after all, the very fact of pride in living in Russia is subject to obstruction by adherents of total consumption. That is why we began to treat any matter for pride with caution - the disease is contagious. Serve, you know, the show, otherwise - no, no ...