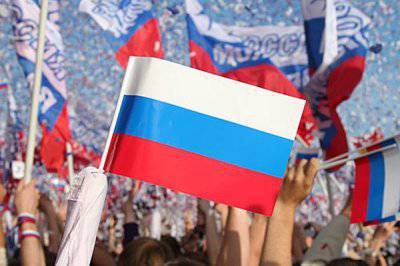 Listen to yourself and absolutely sincerely admit that you would say in a contemptuous and offensive tone to a person's words about your country, using words like "Rassiyaniya", "Rashka" or you spoke about Russia as a country of stupid and imbeciles. It seems to me that for most of the visitors to the VO website this would definitely have a negative reaction, and some would not even use the count on which they would be willing to be seated.
Or tell me what is your attitude to this kind of situation; lived-lived a married couple - husband and wife - as it should be. And they had their own pleasant secret - the wife was carrying a child. They waited for him with impatience and love. But it so happened that a razluchnik-villain ran across the road and do not say, guys, that this does not happen in life. There are situations and pohlesche. So - this divorced runner crossed the road to the young couple and stole her husband from the young wife. Grieved left pullet, but decided to leave the child ie - give birth. She gave birth, began to bring up and raise a child ... It seems that everything entered into the usual rut, and the pain of separation was somewhat dulled. Father (I must pay tribute) showed some participation in fate. That flowers will give, then congratulate by phone. In general, according to his concepts, the parental debt respected. The child grew up, began to ask questions about his father, and it became necessary to somehow clarify this situation to him, without hurting, if possible, the psyche of the child. It was agreed that the child will celebrate some birthdays in the new family of the father. And on one of these birthdays, a child with a joyful mood came to visit his father, and he, as a sin, was late for some reason. The child calls, the door is opened by his dad's new wife and to her question "What came?", He sincerely replied that he has a joyful day today - his birthday, and he, according to the established tradition, came to visit dad. And hears in response, "I did not give birth to you! Here comes your father, then come! "Your reaction, guys? I think that normal men are unlikely to find words that do not border on mats to describe this lady, or simply obmaterit.
But about the same thing, guys, we happened yesterday on the branch about the holiday dedicated to the DAY OF RUSSIA.
NOT THE DAY OF INDEPENDENCE, but (I repeat) - THE DAY OF RUSSIA!
It all started with the fact that one of the members of the forum, himself, apparently, not wanting, replaced the concept, saying that he was not going to celebrate the date of the destruction of his country - the USSR. Guys, whether we want or do not want this, but the USSR as a state entity has not existed for two decades and continue to grieve day after day about this right of everyone who cannot continue to live without it. But one should not, on this basis, speculate and throw mud at everything that is happening in the country now. This can in no way serve to consolidate and improve society. Why then the words about love for the Motherland, about contempt for those who interfere with the normal development of the country, for those who are trying to decompose our moral people and eradicate the feeling of patriotism? It turns out that everything, loudly stated about the feeling of patriotism and all those denunciations of those who were busy with
provocateurs and trolls, lousy Russia - all of this - in the mood?
Are your comments resulting from
SUBSTITUTE CONCEPTS
, are not the favorable environment in which comments immediately appear with the use of the words Scattering, Raska and other gems, provocateurs, who gladly warm the slightest signs of contradictions.
Juggling of the type "You yourself offered to conduct a survey" (which is absolutely untrue, works according to the principle "I myself was fool." And is designed for the gullible and not always persistent forumchanin in his search. in your comments about your patriotism and love for Russia, deny this very Motherland her wishes for prosperity and success, and go into the field of nostalgia, lamentations and searches for those guilty of the disappearance of the political concept of the USSR? I do not believe in what happened some kind trouble, some kind of epidemic hit, and all at once became stupid. In principle, an ordinary phenomenon occurred, and on the crest of emotions people left from one concept to discussing another. Guys, you are wasting your time. There are still very, very many opportunities for you to look for the guilty in the collapse of the Union, wash them bones, damn and betray them anathema. Fortunately, articles with such orientation appear with enviable regularity.
I finish and want to once again turn to you guys! Be careful, do not rush to render your verdicts based on superficial judgments and an abundance of negative ratings. Think YOUR head and do not forget that all that is negative that you are pouring onto your TODAY's country is eagerly savored by those who hypocritically sympathizing and warming up your negative emotions and not always restrained comments and kindled with impartiality and participation kindle on the forum threads squabbles recrimination.
We live in this country, boys, grow our children, rejoice in our grandchildren, and we should not destroy the positive things that are planned in our life. We need to treat each other with respect and with no less respect for our country, which we call -
Motherland and Russia
. And thank God that the forum did not hesitate to say those who were not afraid of the minuses of the negative rating and defended their position that the holiday
DAY OF RUSSIA
, this is not a copy of the Independence Day in the USA, which has been distributed all over the world.
Successes to us all, guys, and mutual respect!
Sincerely, ESAUL
Written by 12.06.2013, by coming from work, and because of the many comments that were seen