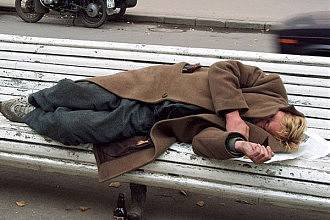 The European Union, which some Ukrainians still naively dream of, is completely going crazy. We could, of course, be outsiders of this theater of the absurd, but after all, "enlightened" Europe is increasingly actively and aggressively imposing upon us its own, to put it mildly, strange views and customs. And the saddest thing is that we have found interested supporters who receive incoming orders from behind the Carpathians happily greeted "at attention!" And rush to carry them out.
The inhabitants of Asia and Africa massively flooded the countries of the European Union. They received a residence permit or even citizenship, housing, many were offered jobs (from which, however, they turn up their noses). In Germany, for example, there is already a huge colony of Turks - more than 5 millions. When there were too many visitors, they felt their power and began to swing their rights, including religious ones. Since the majority of migrants are Muslims, they began to demand from the Christian majority (for the time being) build mosques for them, remove the crosses that allegedly offend them, and not prohibit their women in a secular state from wearing the burqa.
Not realizing that they entered the mortal game with fire, the Europeans were inferior to all their requirements! In a small English town (6000 residents) at the request of 16 (!) Local Muslims were forbidden to use the flag of England, which shows a cross! It is not difficult to predict what will happen next, given that the birth rate among visitors is much higher than that of Europeans.
In the Norwegian capital, more Aboriginal visitors have arrived, and Oslo residents have seriously thought about moving to a more peaceful place where there are no Muslims. Recall that 2 a year ago, Anders Breivik expressed his active protest to the dominance of the Gentiles in the country. He attacked the youth camp and killed many visitors.
Of course, it's unacceptable to kill people, but what about superhuman authorities and laws that for the 77 year, 21-room mansions in t. prison ?! Neither this tragedy, nor the pogroms in the Negro suburbs of Paris a couple of years ago taught Europe anything, and everything continued in the same vein.
By the way, the humanity of the Scandinavians is very strange and selective. Being too tolerant of the antics and demands of migrants, they are very hard on their own citizens - young parents. For only the workers of their social services know how to raise children. And for the slightest deviation from the standard prescribed by them, or for a slap on their own, you can take away your children (even an infant baby!) And pass them on to a foster family, which will be well paid for. That's where the squandering of budgetary funds, and insanity in one bottle.
Recently, in Stockholm, residents can not sleep - visiting rebels, who did not create anything on Swedish soil, succeeded in destroying: they ruin shops and burn cars. And in addition attack firefighters who are trying to eliminate fires. Do you know what the true cause of the rebellion is? Freeloader visitors are unhappy that their social benefit is lower than the salary of working Swedes! Have you seen such impudence anywhere else ?!
And the most humane authorities in the world are shrugging off: they do not know how to make these slackers work, or how to pacify their chaos. Only a week later, the guards decided to detain the arsonists - the 21 bully was already isolated. How long?
In London, a scandalous case in general - two Negro scumbags in broad daylight killed a soldier in the street. Moreover, this was done extremely brazenly and cynically for the sole purpose: to intimidate the British and to achieve even greater benefits and privileges. And so that you do not doubt, will achieve! Politicians and the public are a little embarrassed, but nothing will change, and Europe will continue to grovel before visitors within the framework of its notorious political correctness.
Only recently, the government of Norway timidly and naively tried to intervene in the situation. Migrants are offered free tickets, at $ 3000 per person (as compensation) and even help opening a business if they agree to return to their homeland. Only here is not worth all those who want to go back to Afghanistan or Sudan.
At the same time, the residents of Ukraine, just to visit any European country as a tourist, need to collect a huge list of sometimes idiotic certificates, pay for a visa, and sometimes also have an interview to prove that they are not a camel.
Recently, with great fanfare, we were told that the process of obtaining visas to European countries had been simplified. Bullshit it! Relaxation is so scanty and accompanied by so many reservations that it is seriously impossible to talk about them. Journalists can get a reusable Schengen visa under a simplified scheme, but only when traveling on a business trip. That is, if I get such a visa for 5 years (as promised), then I will not be able to go abroad for a visa on it - I will have to get a tourist visa on a common basis.
It is the same with the rest of the "gracious" - it should be a little easier to go to Europe for study and treatment, as well as for scientific events. And how many such people will be recruited in Ukraine in a year? Well, a couple thousand people. So the notorious simplification is actually purely nominally, it is nothing more than a public relations campaign of the European Union on brainwashing people in Ukraine.
Compared to the fact that my friends living in Germany go to the pool in Belgium, shopping in Milan, swim in the Cote d'Azur, stroll in Holland, the current procedure for Ukrainians to get permission to enter Europe looks like a mockery.
It is no secret that the main driving force of our desire for Europe is precisely the desire to move freely along it. Indeed, there is something to see there (the architecture of Barcelona, ​​the Louvre with Versailles,
historical
monuments of Italy and Greece) and what to do (go to Disneyland, drink Czech beer, do some shopping)!
So, let us calmly and soberly admit to ourselves: first, if the European Union agrees to accept and allow free entry, it is not in this century; secondly, why should we live in such a madhouse according to their, to put it mildly, strange laws? The fact that, from an economic point of view, we will not gain anything from joining the European Union (rather, on the contrary), it has already been written so much that I will not repeat.
In December, 2012, many earthlings were tensely waiting for the end of the world - it seemed to them in the form of a flood, earthquake, space attack or other natural disaster. But it turned out that the end of human civilization will look very different ... Think about all this before the next time you express your opinion about Ukraine's European integration.