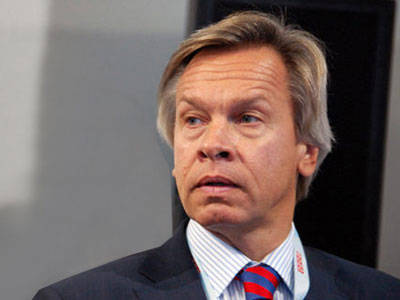 The United States will not succeed in disrupting integration processes in the post-Soviet space. This, as a REGNUM correspondent reports, was announced at a press conference on 10 in June by Alexey Pushkov, head of the Russian State Duma Committee on International Affairs.
"I think that Mrs. Hillary Clinton, who said that this (integration processes in the post-Soviet space) means" re-Sovsetizatsiyu "the post-Soviet space, and promised that the United States will fight against it with all its might, overestimated the strength of the United States. I do not think they will succeed in disrupting this process, especially since the United States now has a lot of business, from North Korea to the Middle East. They have something to do, "he said.
As noted by Pushkov, the "pathos" of the struggle against the Customs Union and the Eurasian Union was not divided in the administration of Barack Obama. This, according to the politician, is not viewed by the United States as a priority, although integration in the post-Soviet space cannot evoke sympathy from the United States, since this leads to a strengthening of Russia, and therefore a strengthening of its position in the dialogue with the United States.
According to Pushkov, Russia does not need accession to the EU, it is natural for it to look for opportunities to create an integration group in the post-Soviet space in which it will play a "very significant role." "This is what is happening now," he said.
As REGNUM news agency reported, December 6, US Secretary of State Hillary Clinton, during a meeting with Russian Foreign Minister Sergei Lavrov, said that Washington is trying to prevent integration processes in the post-Soviet space, which it considers Russia's attempt to recreate the new version of the Soviet Union. According to Clinton, there is a movement aimed at re-Sovietization of the region through the creation of the Customs Union, the CES and the Eurasian Union.
"It will not be called that way. It will be called the Customs Union, it will be called the Eurasian Union and everything like that. We know what the goal is, and we are trying to develop effective ways to slow down or prevent it," Clinton