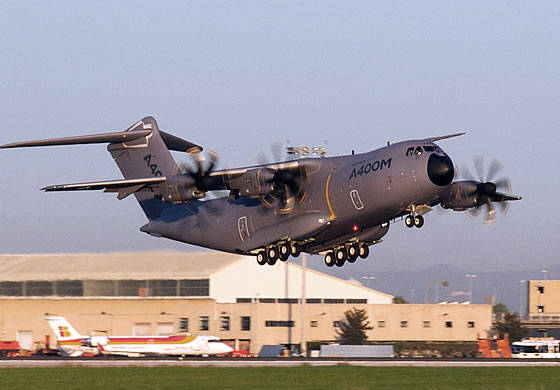 Airbus Militery announced the launch of a flight test of the second serial ATS-400M (MSN008) at the plant in Seville (Spain). The first flight took place 7 June.
This aircraft must be handed over to the French Air Force in the third quarter of 2013.
According to Cedric Gauthier, A-400M Program Manager, the first flight of MSN008 was somewhat delayed due to the small delay associated with the transfer of the first production aircraft, MSN007. The MSN007 acceptance process continues, the handover ceremony is to take place in late June or early July.
According to the Airbus Militi, in the 2013, four aircraft will be handed over to customers (three to France and one to Turkey). The third aircraft (MSN009) will be delivered to the Turkish Air Force, and the fourth (MSN010) will be delivered again to the French Air Force.
Delivery of the first A-400M British Air Force (MSN016) and Germany (MSN018) is scheduled for 2014 year, Malaysia (MSN022) for 2015 year, Spain (MSN046) for 2016 year, Belgium (MSN133) for 2019 year.
The aircraft will be delivered with six versions of the software, gradually improving the algorithms. In the middle of 2013, a version of initial readiness for combat use will be supplied. Incremental standards will include: initial operational capability (mid 2013 of the year), standard 1 maintenance package (Standard Operating Clearance - SOC) will be ready at the end of 2013 of the year, SOC1.5 at the end of 2014 of the year, SOC2 - at the end of 2015 of the year, SOC2.5 - at the end 2017 of the year and SOC3 - at the end of the 2018 of the year.
The SOC1 package allows for the initial tactical air transportation of goods and the use of self-defense, SOC1.5 - the full air transportation and use of self-defense. The following packages are under development.
Aircraft with b / n MSN009-MSN012 are currently in the process of final assembly in Seville, and aircraft with b / n MSN013-MSN027 - in various stages of production.
Currently, parts with long production times have been ordered for A-400M aircraft according to MSN032 inclusive.