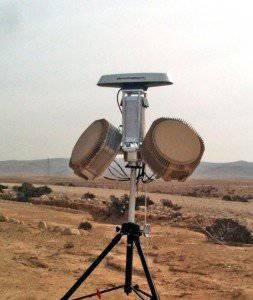 The detection system of missiles, artillery shells and enemy mortar ammunition (Counter Rocket, Artillery, and Mortar, C-RAM) RPS-40 covers the sector in 180 degrees in width and 90 degrees in height. When the panels are tilted 45 degrees, the system combining four radar modules provides full hemispherical coverage, effectively detecting mortar and rocket attacks, as well as the threat of direct fire. Photo: RADA
A new radar designed to improve the protection of forward-based units and advanced operational bases was recently tested in Israel by RADA Electronic Industries. Multi-purpose hemispherical radar RPS-40 is designed to detect missiles, artillery shells and mortar ammunition of the enemy.
Mortar and rocket attacks can be extremely dangerous for protruding military units, advanced operational bases or civilian targets. Early warning of personnel, allowing him to hide and the armed forces to use anti-battery fire, leads to a significant reduction in casualties.
During the tests, the radar detected numerous mortar shells and missiles fired within the radar coverage area. The system detected threats at the earliest stage and provided only an early warning without any false positives. According to RADA, the new radar provides a precise definition of the initial launch point (Point of Origin, POO) and point of impact (Point of Impact, POI), allowing the effective use of selective alert, countermeasures and counterstrikes.
RPS-40 detects, tracks, classifies and determines the coordinates of the place of the alleged fall of ammunition when they are fired at direct fire and along a hinged path of stationary or mobile forces; Such threats include missiles, artillery, mortars, ATGM, RPG and more. The system can be integrated into any protection system and / or combat information and control system and can be placed on stationary bases and posts or on board combat vehicles.
The tests were watched by representatives of the Israel Defense Forces and the defense industry. "Our next goal is to set up mass production by the middle of 2013," said Zvi Alon, general manager of RADA, adding that further tests are planned for the coming months, the purpose of which will be to confirm the tactical and technical characteristics of the system in additional operational activities. Alon expects that by the end of the 2013-th radar RADA will be adopted by individual customers.
Брошюра