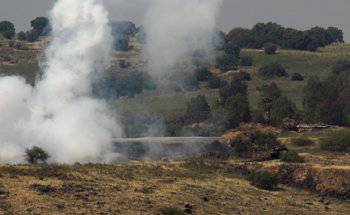 The crew of a special correspondent of the All-Russian State Television and Radio Broadcasting Company in Syria, Yevgeny Poddubny, was shot at by Syrian opposition militants on their way to the Golan Heights. This site reports "Vesti.ru" with reference to the journalist.
According to him, the film crew today in the convoy of soldiers from Syria moved to the checkpoint "Charlie", where the UN peacekeepers and the observation point of the Syrian soldiers.
"Militants ambushed on the road and opened fire on cars, the battle started. The column was attacked from both sides and shot, primarily at civilians. After about 15 minutes, journalists under the guise of the military managed to withdraw to the" Charlie "post, the correspondent reported. He does not specify whether there are victims in this incident.
The terrain at the checkpoint is considered to be a buffer zone; soldiers cannot use heavy weapons here and carry out large-scale stripping operations. In turn, the militants are hiding in the villages on neutral territory and carry out attacks, attacking military and civilians in Syria.
Two days ago, Syrian militants fired at the Golan. As a result of the attack, two peacekeepers suffered. In addition, in the region more than once they were taken hostage by the foreign military. Peacekeepers from Canada, Croatia and Japan have already left the region. The withdrawal of the contingent hastily and Austria.