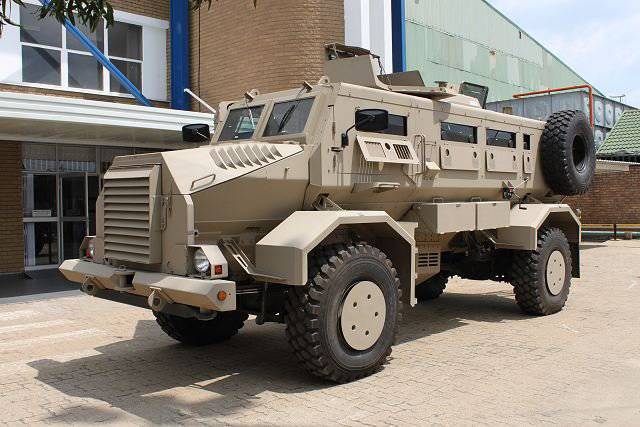 "The main features of Casspir remain the same," says Ashley Williams, CEO of Denel Mechem, which designs and manufactures the car. He has always been a world leader in his class, providing unsurpassed protection from mines, land mines and automatic small-arms fire. .
"Now we have upgraded the hull protection with the use of higher quality steel, increased its capacity, improved accessibility for passengers and installed it on a more versatile and reliable car platform," says Mr. Williams.
Casspir is a natural choice in demining or military operations and has been used from Afghanistan to Mozambique by the United Nations, South African national defense forces, private security companies and the police around the world.
Denel Mechem is a world leader in the field of mine clearance and combat equipment manufacturing. Nearly three decades after the first Casspir rolled off the assembly line in 1979, New Generation 2000 will provide new features and enhanced protection to its end users.
There are two versions of the Casspir NG 2000: one based on the Mercedes Benz transmission and the 2000B version using the Powerstar engine as a platform. Both versions will be equipped with an updated steel case that meets the highest industry standards of protection.
Jack Geldenhuys, manager of Mechem Vehicle Systems, claims that the new car will also be equipped with side doors for the driver and crew and an improved tailgate for the troops or passengers allowing for more convenient loading or leaving the car during operations.
Mr. Geldenheis says that the key feature of Casspir is its modular design, which provides it with an unsurpassed level of operational flexibility. At Denel Mechem's production facilities at Lyttelton, the vehicle can be modified and adapted to suit individual customer requirements.
Thus, Casspir can act in its usual role as an armored personnel carrier with mine protection, but can also be adapted to a field medical vehicle, a command and control vehicle, a recovery vehicle, or a light vehicle. All variants are fitted with inserts in tires for driving with punched tires and are available in 6x6 or 4x4 format and with a choice of manual or automatic transmission.
Its cruising speed is 100 km / h on the road and up to 40 km / h in most off-road conditions with a power reserve of up to 800 km on a standard fuel tank. He is able to withstand an explosion of 14-kg of TNT under each wheel, which is more than two standard mines.
Mr. Geldenheis says that deciding to standardize the engine and transmission makes Casspir a more cost-effective choice of international forces and defense agencies that rely on its excellent reputation for reliability. This means substantial savings in maintenance costs, spare parts and logistics.