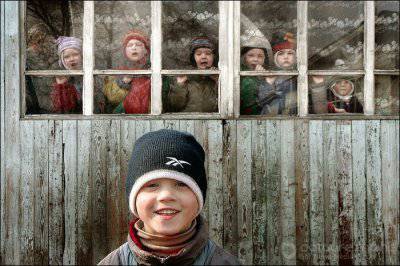 Not long ago, Pavel Astakhov (Commissioner under the President for the Rights of the Child) provided information that there are about 660 thousand orphans registered in Russia. For comparison, this is higher than in the 30 of the last century ... At the same time, no more than 10% of this number are so-called orphans - children who have no parents, and other relatives refused to raise them. The majority of the presented number are children, at least one of whose parents is alive, but at the same time is a citizen, deprived of parental rights. In other words, more than half a million Russian children are orphans with living parents and brought up in public institutions.
Is there a chance for a child who is brought up in an orphanage today to grow into a member of modern society who can later himself have a family, find a job and provide for his children? With all due respect to the existing system of pre-school and school education and education, designed for orphans and children left without parental care, there is no need to sing the praises on this matter. And it would be desirable, but not necessary, because according to the statistical calculations of recent years and personal study of this kind of information, the picture is approximately as follows: only a very small percentage of children with, let's say, a special social status, have the opportunity to actually step over from their actual refusal of their parents through the emerging complexes and find your positive path in life. In the majority of cases, children, even if with good intentions, state bodies have torn off the asocial and amoral lifestyle of their parents from the leading ones, follow the path of the same parents. They simply repeat the same vicious circle: education, graduation, the emergence of their families and children, first - work, then the lack of commitment to work as such, life on benefits, slipping into systematic use of alcohol or drugs, family scandals, beatings, and often - crimes , and - "head to head" with guardianship agencies that are forced to tear children out of the asocial environment (what is already difficult to call a family).
It would seem nonsense! Why is this vicious cycle for most graduates of orphanages and boarding schools repeated? After all, they are brought up completely in a different environment ... But there is no nonsense: the educational environment of orphanages itself (both today and yesterday) is structured in such a way that children are forced to have contact with children who are offended by their fate like they are. The theme of the broken family here literally hovers in the air, as well as the theme of the desire to create your own counterbalance to the world from which the child was pulled out and in which he found himself. This topic may not be discussed directly, but it is in the eyes of children, it is read in their words and deeds.
It turns out that the system of raising children of orphans and children left without parental care cannot cut this tight knot, which leads a person to the same path on which he stood, let's say, unprofitable parents. The system takes the baby, but does it create an opportunity for its full development? Obviously, at the moment - no. There are many reasons for this. Someone says that the employees of orphanages have too low salaries to be able to give their students the attention they need. Someone is sure that the reason is the bad genes of these same pupils: they say, what to expect from a son or daughter of parents who even, excuse me, their child's conception was carried out in a half-drowned state from the effects of alcohol or drugs, and to bring up a child: where is obscenity, where is his fist, and where is something heavier ...
However, the relatively low salary of the staff, the genes of the pupils and everything else is just special cases of one big whole. And the whole thing is that no institution, no matter how exemplary they are, can be compared a priori with a full-fledged family - a family where there is an elementary parental responsibility to the child. No institution, by definition, can replace a mother and a father - a truism, even if truly professional teachers work in this institution, and indeed "golden" people generally. Pedagogy is a strong thing, of course: Ushinsky is there, Pestalozzi, Sukhomlinsky ... but when with such children — one on one, when you need to give your warmth to everyone — this is not given to everyone, whether you are three times gold or diamond. Indeed, it is one thing to read about how this is described in textbooks, without detracting from the dignity of textbooks, and quite another to at least try to replace the child of one of the parents in this very institution. It's easier to write off genes ... As from many employees of orphanages, you hear, although it's simply wrong to blame them, but if you really want to, then for God's sake, at least for a month in their place ...
But if the system itself is built in such a way that it puts the 8 of 10 children into the same vicious circle that was discussed above, then it means that the approach to such a system should be reconsidered. Well, there is no possibility in our country to completely abandon children's homes, even if tomorrow lawmakers suddenly pass the relevant law. Yes, and no law here will not be a panacea. The main goal is propaganda (and there is no need to be afraid of this word), it is propaganda of the moral foundations of the family, bringing to the attention of all sectors of society that having a large family is great, that a full-fledged family is not always the presence of a multi-room apartment, a luxury car, a prestigious work for its members. A full-fledged family is mutual respect, love, the desire to give each other a shoulder in any difficult life situation, the desire to live and work.
In fact, it is easy to understand things. However, for some reason they are so rarely said. For some reason, it has become fashionable to discuss the topic of the fact that having a baby is an expensive pleasure ... And many take the same position: they say yes, yes, very, very expensive - diapers, diapers, mixes, strollers, kindergarten, etc. ... Such an impression that all modern citizens of our country were born and brought up exclusively in greenhouse conditions: in families with separate apartments, cottages, cars and other things ... Well, in fact, not the same. Just the level of morality was different. And despite the fact that our country was considered the most "godless" country in the world ... And now, it seems, we are striving for faith, and we are building churches, but the number of street children wandering around the stations is almost at the level of the early 20 of the past centuries ... And after all, for the most part we often stop paying attention to this problem, as if it should be so - the XXI century is in the yard, and we have hungry children walking along the streets that do not have a roof over their heads, nor there were perspectives in life for which another word is more suitable - survival ...
By the way, one of the readers can remember at least one episode of social advertising of the last time about what family foundations and values ​​are, the moral character of parents, mutual respect, what kind of care is shown for large families (if there is), about What procedures are necessary to pass for the adoption of a child?
One gets the impression that advertising of expensive cars or bank loans is much more important ... And if it is more important, then 660 of thousands of orphans is not the limit for us and our country ...