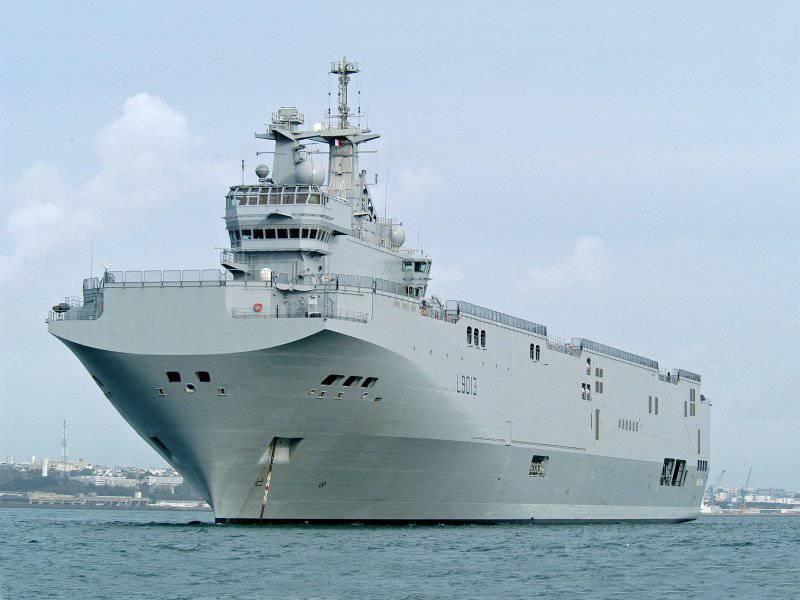 In Japan, they are concerned about the agreement between Moscow and Paris on the supply to Russia of two universal landing ships (UDC) of the Mistral type. This was announced today in Singapore by Japanese Defense Minister Itunori Onodera during negotiations with his French counterpart Jean-Yves Le Drian, who were on the margins of the forum of heads of military departments of the countries of the Asia-Pacific region in the framework of the so-called "Shangri-Dialogue".
"This decision upsets the balance of power in the Far East," Onodera said.
Currently, the construction of two Mistral UDCs (Vladivostok and Sevastopol), intended for transfer to the Russian Navy, is under construction at a French shipyard in Saint-Nazaire. Earlier, the General Staff of the Russian Armed Forces noted that at least one of them could be transferred to the Pacific
the fleet
.
Displacement UDC "Mistral" is 21,6 thousand tons, the maximum length of the hull - 200 meters, speed - up to 19 nodes, cruising range - up to 11 thousand miles at a speed of 15 nodes. The crew has 177 people and 230 people. in the composition of the wing. In addition, the ship can take on board the 450 marines and up to 60 units of light vehicle vehicles. The air group includes 16 helicopters, six of which can simultaneously be placed on the takeoff deck.