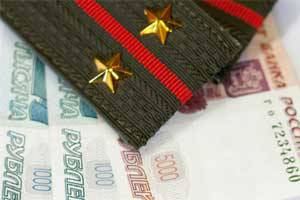 The number of complaints about problems with payments of monetary allowances received by the Chief Military Prosecutor's Office (PRT) increased in 2012 six times compared with the previous year. GWP representative Major General of Justice Alexander Nikitin announced this to journalists last Tuesday, adding that 2011 had 857 calls in 2012 and 5 thousand had passed in the current year. "The dynamics have improved a little." The general noted that issues arise mainly due to the "not entirely coordinated" interaction of the Single Settlement Center (CSC) of the Ministry of Defense and the field command.
In connection with the publication of these data, it is worth recalling that in September 2009, the former Minister of Defense Anatoly Serdyukov signed Order No. 1034, which established a system of federal budget institutions (FBU) on the basis of military structures. A year later, the Ministry of Defense began to form territorial financial authorities (TFO), which closed all FBU. And the TFOs themselves were not tied to military districts, but ... to the subjects of the Russian Federation. And since January, 2011, financial bodies and all officer positions of financial and economic specialties were everywhere excluded from the states of military units. Personal accounts in the bodies of the federal treasury simply ceased to open to military units. By the end of 2011, a purely civilian cash flow management system was finally formed, building relationships with the relevant commanders and superiors on the basis of bilateral treaties and effectively depriving the military themselves of the right to manage budget allocations allocated generally to their needs. The system was entirely controlled by a team of managers brought to the Defense Ministry Serdyukov.
Last Tuesday, after the statement of General Nikitin, Igor Savenko, Deputy Director of the Department of Budget Planning of the Defense Ministry, made an explanation in the Federation Council. He said: "For a more flexible system of calculating the money allowance through the CSC, the Ministry of Defense has now expanded the category of persons entitled to issue orders related to money allowances. Previously, only the Minister of Defense had this right, but now it has been extended to top commanders, including brigade commanders. " And yet, we note that almost the entire leadership and most of the employees of the budget department, the ERC, TFO and FBU have remained Serdyukovskys to this day.