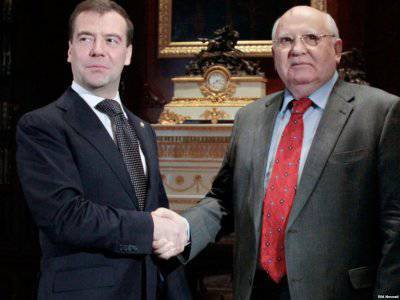 Appeal to the authorities of Russia:
3 May 2012, outgoing President of Russia D.A. Medvedev presented the former USSR President MS. Gorbachev Order of St. Andrew the First Called - the highest award of the Russian Federation. Dmitry A.Medvedev accompanied this award with a statement:
"I believe that this is an adequate assessment of the great work that you did as head of state. I see this as a symbol of respect for the state that you headed, for the state that was our common homeland - the Soviet Union. "
We are convinced that the presentation of the order to a person who violated the oath, destroyed the Union of Soviet Socialist Republics with his own hands, of which he was president, is a symbol of contempt for the USSR, conscious mockery of the memory of people who built the USSR and defended it with their blood and life.
Therefore, we urge the Russian authorities to deprive MS Gorbachev Order of Andrew the First Called.
I read the petition "Appeal to the authorities of Russia: deprive MS Gorbachev's highest awards of Russia! ", And is ready (a) to put his signature:
http://www.iarex.ru/petitions/36694.html