In the village of Yekaterinoslavka, Oktyabrsky District, Amur Region, several military exploded during military exercises
tanks
. This was reported by the media with reference to eyewitnesses of the incident.
According to interlocutors, one of the combat vehicles caught fire immediately after leaving the park. Then the tank's tank exploded, and then the ammunition was detonated. The car blew off the tower with an explosion - it was thrown to 25 m.
The explosion damaged the nearby tank. According to unconfirmed information, the victims were avoided, no one was hurt. According to other sources, not tanks, but training models of military equipment exploded in the village.
The Ministry of Defense has not yet commented on this information. The official reaction was not followed by the MOE. Meanwhile, local residents say that the road from Yekaterinoslav is blocked, and rescue vehicles are moving in the direction of the village. Eyewitnesses reported clouds of smoke hanging over the village.
It is worth noting that a gas station is located near the site of the explosion.
http://top.rbc.ru/
Two tanks that exploded in the Amur region were mock training
The tanks that exploded during the training and tactical exercises in Yekaterinoslav of the Amur Region were training models, no one was injured as a result of the incident, RIA reported
News
representative of the Eastern Military District (VVO) Oleg Chekhov.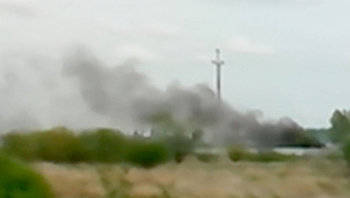 Earlier on Monday, local media, citing eyewitnesses, reported that during the exercises one of the tanks caught fire, after which the ammunition began to explode and damaged another tank standing nearby.
"During the training session, the fuel and lubricants on the tank mock-ups caught fire. Two units of training equipment were hit. There were no victims and injured," Chekhov said.
The official report of the TSB states that during the instructor-methodical classes, when the military on a tank mock-up were learning how to operate when the engine ignited, the remaining fuel in the fuel tank of the car suddenly caught fire and the fire spread to the next mock-up. Due to the possible explosion of fuel residues, the command decided to stop tank extinguishing and remove them from the landfill. As a result of a fire, two explosions of fuels and lubricants vapors occurred in the fuel tanks.
http://ria.ru