If you call the military symbols of the Soviet Union, then in addition to those world-famous as the Kalashnikov assault rifle or the T-34 tank, you can also call the commander's watch. The exact name of this watch is award. But it was the adjective "commander" that stuck with this watch and became very famous.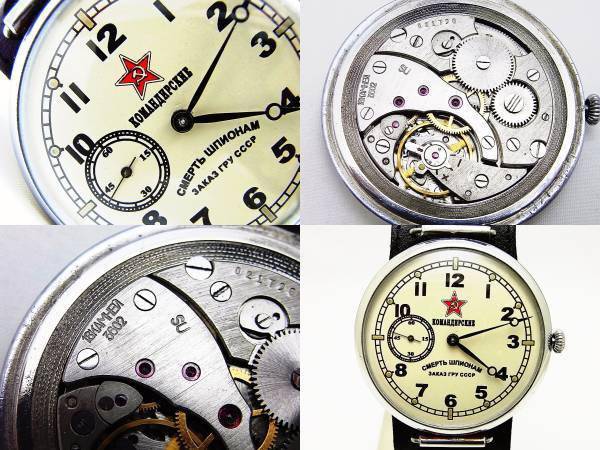 In Soviet times, officers were awarded with such hours, and this award itself could not be called official. It is difficult to correlate it with such awards as orders and medals, and with money prizes, too, is not easy. Commander hours were and remain such a type of reward for a soldier, which would become a kind of memory for him and at the same time would not commit to anything.
Today, many watch factories manufacture under the guise of commanders even
Ladies Watch
, stating that such a watch (with a reduced dial) should be awarded to female military personnel. However, real commander watches are not female. Perhaps discrimination, but still it is a fact. They have a standard diameter dial, a special version of a mechanical factory and the characteristic additional features that allow the owner of the watch in a certain way to navigate the terrain.
Modern models of commander watches have more than a hundred different dials, but these watches do not always have a direct relation to classic commanding watches. After all, it often happens that in these watches electronic, rather than mechanical, versions of work are used, which takes them out of the cluster of watch Soviet classics.
There are civilian counterparts for military models of command hours. After all, it is customary in our country to reward not only military personnel. For example, those employees of an industrial enterprise who distinguished themselves in the implementation of the annual plan are also often presented with special watches, which may contain the logo of the enterprise. Unfortunately, fraud has frequently surfaced lately. They are connected with the purchase of watches by citizens of the country with fake award documents. For example, not so long ago in Moscow, a case was revealed of the use of award hours from the Minister of Defense in one of the military units to private soldiers serving in conscription. It turned out that he bought this watch in a passage at one of the metro stations. No sanctions were imposed on the soldier.