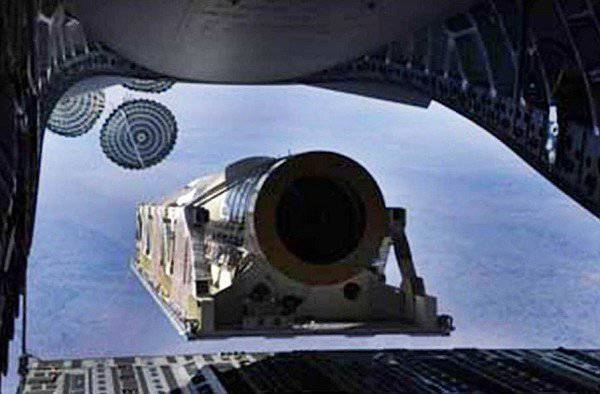 Lockheed Martin and the US Missile Defense Agency successfully tested a prototype of a medium-range eMRBM (Extended Medium-range Ballistic Missile) medium-range target missile over the Hume test site, Arizona, reports ASDNews May 14.
The full-scale prototype of the target missile was dropped at a height of 25000 feet from the cargo compartment of a heavy C-17 transport aircraft of the US Air Force. After the parachute system was deployed, the rocket separated from the pallet, then made a free fall (the rocket was not equipped with a propulsion system). Specialists from Orbital Sciences Corp. subcontracting organizations took part in the test. and dynetics. The test of the full program is scheduled for the end of this year.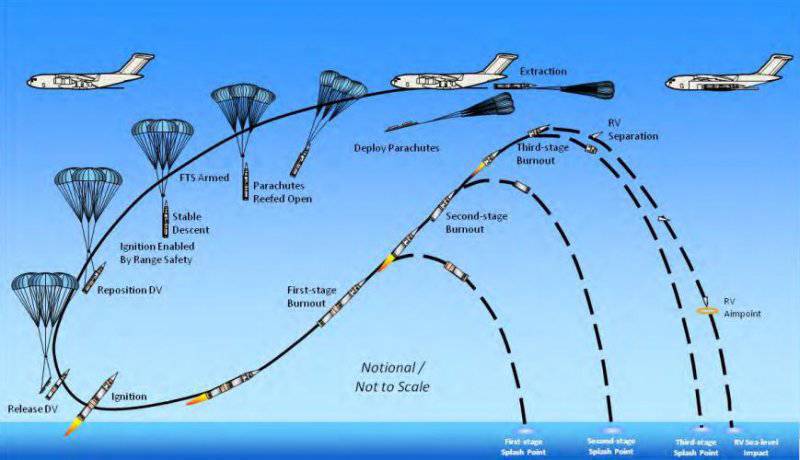 Lockheed Martin is developing an eMRBM for testing missile defense systems. "This new target is designed to increase the degree of imitation of the real situation, so that the missile defense system will gain experience for operations in a combat operating environment," said John Holly, vice president of Lockheed Martin Space Systems Company.
"The eMRBM target was tested to test air-based equipment and discharge systems in nominal mode, and in the future it is planned to test the performance characteristics for targeted tests," said Patricia Dare, director of the Targets and Countermeasures Program. .
Currently, Lockheed Martin is developing and manufacturing 17 target missiles with different flight ranges, including five eMRBMs. As part of the target production program, the company has launched 2003 products for testing missile defense systems since 27. Until that time, the company had produced 17 target rockets for other contracts. Since 1998, Lockheed Martin has achieved an unsurpassed success rate (98%) in launching land, sea, and air-launched short- and long-range target missiles.
PS: as you know, the development and deployment of RSD is prohibited by the Treaty between the USA and the USSR. If the United States "does not whine-so-crook" promotes its development even as a target for testing missile defense systems, then the RF can also follow ... And go to the fields "Pioneers-3,4,5" and "Couriers" and "Speed" ...