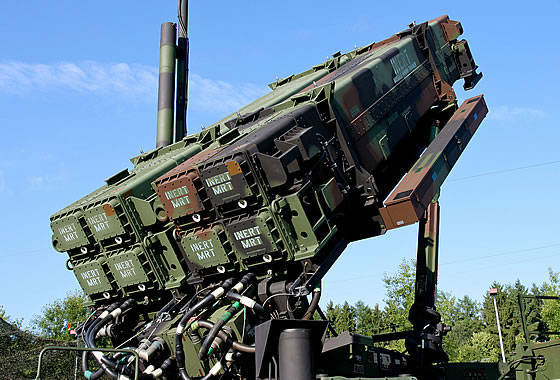 The long-range T-LORAMIDS (Turkish Long Range Air and Missile Defense System) long-range air defense and missile defense systems are entering the final stage.
According to Janes Defense Weekly, the decision to choose a winner is expected to be made in June. All four applicants took part in the IDEF-2013 defense exhibition in Istanbul.
The Turkish Defense Industry Secretariat (SSM) issued a request for information under the T-LORAMIDS system procurement program as early as early March 2007. Since 2009, the project has experienced delays. The competition involved the Lockheed Martin / Raytheon consortium with the complex created on the basis of the PAC-2 GMT and PAC-3 projects of the Patriot missile system and the China National Precision Machinery Import and Export Corporation with the HQ complex -9 (export designation FD-2000), "Rosoboronexport" with the S-300BM "Antey-2500" AAMS, as well as the French-Italian consortium "Eurosam" with the SAMP / T ADMS based on the "Aster-30" SAMs.
According to available information, currently, it is planned to purchase 12 air defense missile systems with a total value of about $ 3,5 billion to equip the Turkish armed forces, but potential bidders should simultaneously submit proposals for developing an advanced air defense system with a national defense industry.
Representatives of the American and European consortia continue to insist that, despite the high performance characteristics of the Russian and Chinese complexes, their integration into the NATO air defense / missile defense system is impossible.
According to unofficial information, Chinese manufacturers have offered delivery at an extremely attractive price.
The representative of "Raytheon", citing sources in the Turkish government, also confirmed that the winner of the competition will be determined soon. The company "Raytheon" among its additional advantages indicates that the production of components for the "Patriot" air defense missile system has already been launched at the facilities of "Rockettsan" and "Aselsan".
It is assumed that if Ankara chooses the American offer, works on 2 billion dollars will be performed in Turkey. "Raytheon" promises to produce in the country about 80% components for the complexes.
Eurosam also declares its intention (in case of victory) to expand partnership with enterprises of the Turkish defense-industrial complex, as well as to organize a number of joint ventures with the participation of Thales and MBDA. The consortium, which presented the SAMP / T complex at IDEF-2013, asserts that there are a number of technical advantages of its complex over its competitors, including the possibility of firing in the 360 sector, deg., And the absence of the need for continuous target illumination.