As the Peruvian newspaper La Republica reported in an article by Angel Paez "Ejército canceló millonaria compra de 7 misiles antiaéreos a Corea del Sur" on May 12, 2013, Peruvian ground forces division division general General Ricardo Moncada Novo, on April 14, has officially rendered a new account in the name of the land forces commander Peru. (108 million dollars) for the purchase for the Peruvian Party of portable Chiron anti-aircraft missile systems (also known as Shingung, or KP-SAM) produced by South Korean company LIG Nex24 (former LG Innotec, part of the LIG group of LG Corporation). The contract was signed on December 104,1492 41,6 of the year and was to be the first sale of the South Korean Chiron air defense system abroad.
The contract provoked protests from Rosoboronexport (about which our blog wrote), since the Chiron (Shingung) MANPADS was developed with the active participation of Russian developers under the relevant 2003 agreement of the year. Rosoboronexport announced the presence in the South Korean system of Russian intellectual property transferred to the South Korean side in agreement with the Ministry of Defense of South Korea, and that the South Korean manufacturer does not have the right to sell this property to third countries.
Rosoboronexport provided the relevant documents to the Ministry of Defense and the Peruvian Army Command, and LIG Nex1, reportedly, was unable to provide Peruvians with the appropriate permission from the Russian side to re-export the technology. After the signing of the contract, the South Korean company tried to achieve changes in the financial terms of the deal with Peru (having demanded 60% advance payment instead of agreed 30%) and unilaterally tried to make changes to the package and technical conditions of delivery. All this led to the cancellation of the contract with the Peruvian army's LIG Nex1. In addition, the company LIG Nex1 officially disqualified as a potential supplier of the Peruvian army for a period of one year.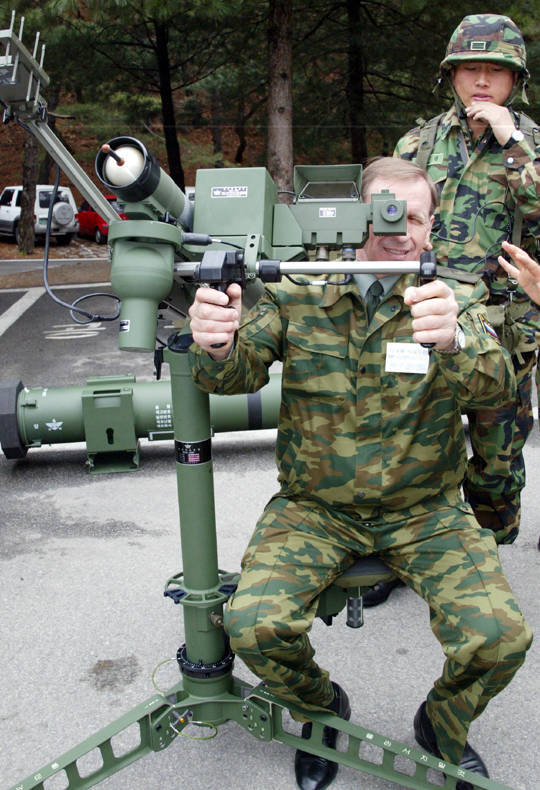 Demonstration of a portable LIG Nex1 Chiron (Shingung) air defense system to a Russian military representative