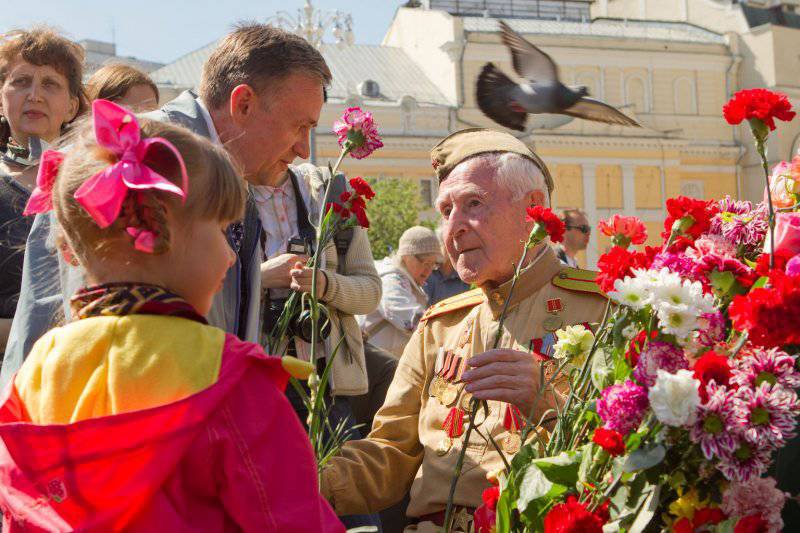 "Too often, the truth about Russia is spoken with hatred, and the lie with love."
Andre Gide
From a Western perspective, the United States and the coalition allies won World War II as Eastern Europe shifted from one totalitarianism to another. Too little
historical
details regarding the losses of the Soviet Army between 1941 and 1945, however, given the numbers, we can really talk about casualties.
Before arriving in Russia, I often saw on military television 9 May on Red Square on TV. The Western media present it with a show of force in the style of "Russia shows its muscles in front of Lenin's Mausoleum", hiding that May Ninth is the day when people's patriotism fills the streets. Respect for young people for veterans and Russian patriotism were what impressed me most of all when on May 9 I mingled with a crowd of Muscovites.
The first time I went to 9 on May, I was expecting to see just a very big military parade. I thought it would be French holidays: sad spectators would watch the fireworks after the parade, return home in the evening and continue their working week.
How wrong I was! In 2010, Russia celebrated the 65 anniversary of the end of the war. Like all foreigners, I was completely fascinated by how Russians wear St. George ribbons, attaching them to their wrists or car antennas. Often next to write: "I remember! I am proud! "Or" Thank you grandfather for the Victory! "I remember how I was surprised by these slogans written on the walls or painted on cars. Amazing Russia!
On May XNUMX, I went to watch the parade - and spent the whole day on the streets among Muscovites. I saw the crowd greet the troops
Tanks
and Topol missiles shouting "Russia, Russia!" In addition to the Russian army, there were about a thousand foreign soldiers from 24 countries, including the United States, Britain, Poland, Azerbaijan, Armenia, Belarus, Kazakhstan, Kyrgyzstan, Moldova, Tajikistan, Turkmenistan and Ukraine. France sent a squadron of Normandy-Neman aircraft, which the Russians did not forget. I could not believe my eyes: the crowd applauds the soldiers and tanks! In France, a crowd would probably rather passively watch these devices carrying death.
For me, some well-known things for Russians were a truly amazing discovery. For example, very young girls who wear military caps and hand out carnations to oncoming veterans. It was amazing for me to see a few young women pinning St. George ribbons on Louis Vuitton bags or baby carriages. In France, army symbols are less popular among young people, and they are mostly worn by men. Watching Russian women, I forget my prejudices. It is also surprising that Russian women are the same patriot as men (if not more). I do not know why in Russia it is so strong. Maybe because so many women participated in the battles?
My neighbor stewardess thinks that "Russian women are able to withstand anything, violence and deception, but not criticism of their country." Listening to her, I thought that in the end the marriage agencies were deeply mistaken, glorifying the beauty of Russian women, and not this. In France, for example, thousands of disappointed men are desperately looking for women who can love their country strongly and sincerely. Since, obviously, there are no such Frenchwomen - they do not know any more the meaning of the word "motherland". Russian girls love their homeland as their family.
I have never seen so many smiling and relaxed in Moscow, as on that day of May 9th. After the military parade, a festive atmosphere really reigned on the streets. While walking, we met an old veteran with a wrinkled face, I wanted to take a picture with him, told him that I was French, and he smiled when he heard the magic formula "Normandy - Neman". Taking this opportunity, we were shot by a group of photographers and bloggers. I keep this photo so that one day I can show it to my son.
This is exactly what you notice on the 9th of May - the national holiday. The significance of this day is measured, in my opinion, not by the number of soldiers and the pomp of the parade. And the fact that after the military parade, the feeling of unity and belonging becomes stronger and most surprisingly even covers foreign observers. People take to the streets. There is an incredible atmosphere. Veterans hug, thank, give them flowers ... When I saw little girls who hug veterans with almost family love, I felt something non-verbalizable. This is one of the greatest moments of human sincerity. The parade on May 9 in Russia for a foreigner is not only a demonstration of military equipment, it is an expression of the soul of the country.
It is true that in Moscow people seem secretive and cold, but on the 9th of May they not only smile, but also look happy. I remember a black and white photo taken on May 9 of 1945, scanned by someone and posted on the Internet. Comments left by people under this picture. Military pilot Nikolai Kryuchkov, who wrote: "On May 9, 1945, I was on vacation in Moscow. It is simply impossible to describe what happened on that day in Moscow. "
It fits perfectly with my feelings. Understanding the importance of this day, I vowed to miss nothing the next year. The following May, I called my friend, a Frenchman, to Russia to show him a holiday. I saw him, with his mouth open, looking at the girl in the military hat and with a huge bouquet of flowers in his hands, and at how she distributed red carnations to all the counter veterans. A friend told me: "I bathe in patriotism, I feel good."
In Western Europe, such manifestations would be abnormal and unnatural. Since the construction of the European Union began, center-right and center-left politicians have avoided, as far as possible, talk of patriotism. The concept of "European patriotism" is difficult to understand, and it does not have much success. Mostly right-wing parties speak about their homeland and patriotism to their voters, which oppose the unification of Europe.
But opponents call it "xenophobic populism." Because of this, patriotism is automatically viewed as a form of nationalism and takes on a negative connotation. In France, it is difficult to be a patriot without causing suspicion of potential nationalist hatred of other people. At the other end of the political spectrum, there are extreme left and "leftist values" who call themselves globalist internationalists, want the European Union to expand indefinitely, and dream of being citizens of a world without borders. Another key to misunderstanding between Western Europe and Russia can be here.
On the ninth of May, I did not feel any tension in the city, I did not see any fights or other incidents. Then I read that 9 May 2010, almost 2,5 million people walked around the city from the morning to the big fireworks in the evening. Two and a half million - without major incidents! In France, 14 July is not so good. The French love this national holiday, celebrating it for two centuries. They arrange dances and fireworks in many districts, in small towns and villages. But every year the number of more or less serious incidents that violate the national holiday grows. As in any public event, gangs of hooligans from areas with a high concentration of immigrants appear at the 14 celebration in July in order to break everything, rob and attack strollers. This is an inevitable fact, it happens every year, especially in large cities. In the 2011 year, for example, in one region of Paris alone, there were hundreds of burned cars, and the police arrested more than 500 "thugs". The last time I was at the 14 festival in July in France, in the evening in Bordeaux, I got into conversation with the policemen who were in a foul mood. I wished them a good holiday, and in response I heard that this was one of the worst nights of the year for them, since the "youth" celebrate the republic in their own way: they set fire to cars in the suburbs and provoke the police to show their hatred for France.
And despite the fact that some are outraged by the celebration of the victory over Nazi Germany, which legitimizes the Soviet regime, I am still convinced that the Russians have reason to celebrate 9 on May with fervor and passion. To visit this holiday is one of the best ways to understand the constancy of Russian patriotism at a time when in many Western European countries it is rejected by society. I think that many Europeans should come and see Russia 9 May, in order to feel the emotions and the special unity of the people on this holiday. I think that the Russian people can thank for the victories of their veterans and heroes. I think that all European countries should take inspiration in Russia 9 May.
Anyway, next year on May 9 I plan to be in Moscow to celebrate the holiday.